PUFF DINO Spray Paint
AUTO Spray Paint, Anti-rust Paint, Anti-corrosion Paint, Solvent-based Spray Paint, Multipurpose Spray Paint, Marker Paint, Street Art Paint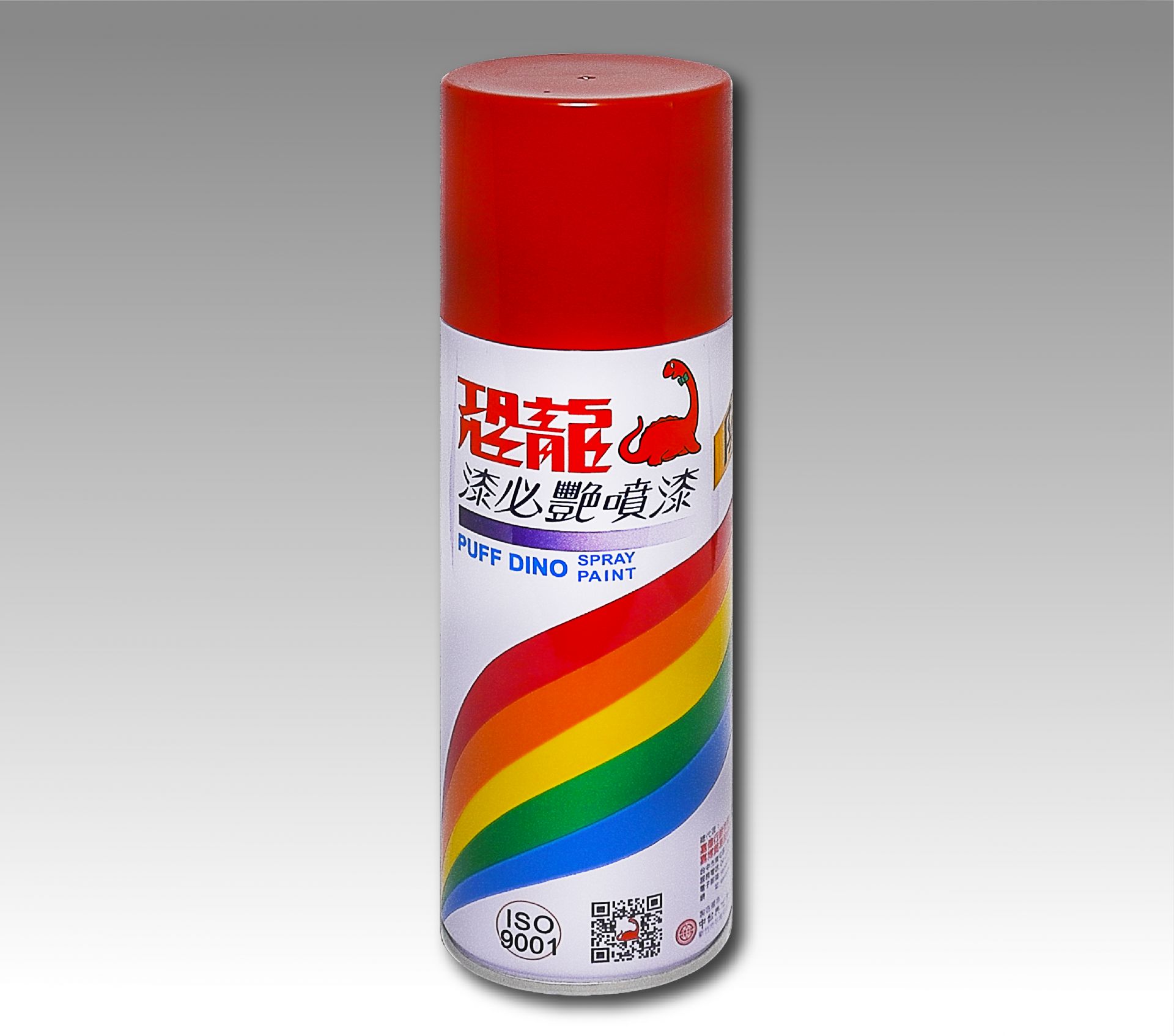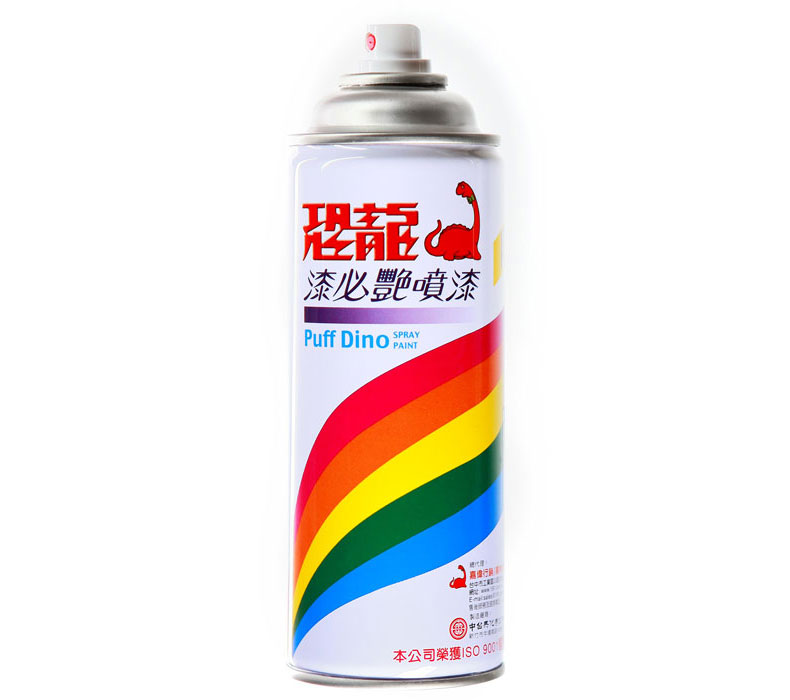 Spray Paint that favored by profesional users. We use finest pigment to providing you bright color and great cover rate paint. It is easy for anyone to use, suitable for materials like metal, wood, concrete and stone.
With just simple spray, you can apply in space decoration, spray paint arts, vehicle, motorcycle color patch and DIY art work.
It's also commonly using in marking location. Spray onto metal can protecting surface from rust.
Manufactured in Taiwan, sufficient capacity, quality and stability.
Standing stock of total 54 colors: 47 common colors and 6 metallic colors.
SPECIAL FEATURES
1. Bright color: By use delicate paint, it has great coverage, bright color with delicate smooth coating.
2. Great coloring:
- gloss colors: presenting with bright noble color, doubling the texture
- flat colors: presenting low-key, but yet luxury
- metallic colors: shining with metal texture
3. Great Adhesion: apply with standard process, it will not drip or fall out.
4. Excellent weather resistance: even apply in outdoors environment the color wouldn't easy to fade.
5. Great coverage: spray twice, it can completely cover base color. It's money saving, working hours and cost-effective.
6. Precision Design: smooth effortless spraying. You can spray the whole without waste.
Suitable Materials
Good Adhesion : for iron, steel, wood, concrete, stone, painted wall.
Slightly Less Adhesion : acrylic, some of plastic material surface.
Physical Property Information
Adhesion: Hundred grid test ≧95% (Standard procedures)
Touch Dry: About 25 minutes
Completely Hardened: 24 hours
Cover Rate: Use standard procedures, cover background color with two spray
Buckling: Folded in half with no crack
Spray Coverage: 3 m2
Glossiness: General color more than 80%, Flat color lower than 20%, Metallic colors do not measure gloss.
HOW TO USE
1. Before using, clean up the object surface and ensure not grease left.
2. Use newspaper or masker tape to cover any other parts that does not need to spray.
3. Shake the spray can for 30 seconds to get a good mixed inside the can before spraying.
4. Keep the nozzle 20 cm above the object when spraying. If nozzle too close to the object may cause dripping or foaming on object surface.
5. Spray multiple times with thin layer to ensure cover whole object. Leave 10 minutes between every spray.
6. After using, please press the can upside-down for few seconds to prevent paint block the nozzle.
PUFF DINO Spray Paint Color Card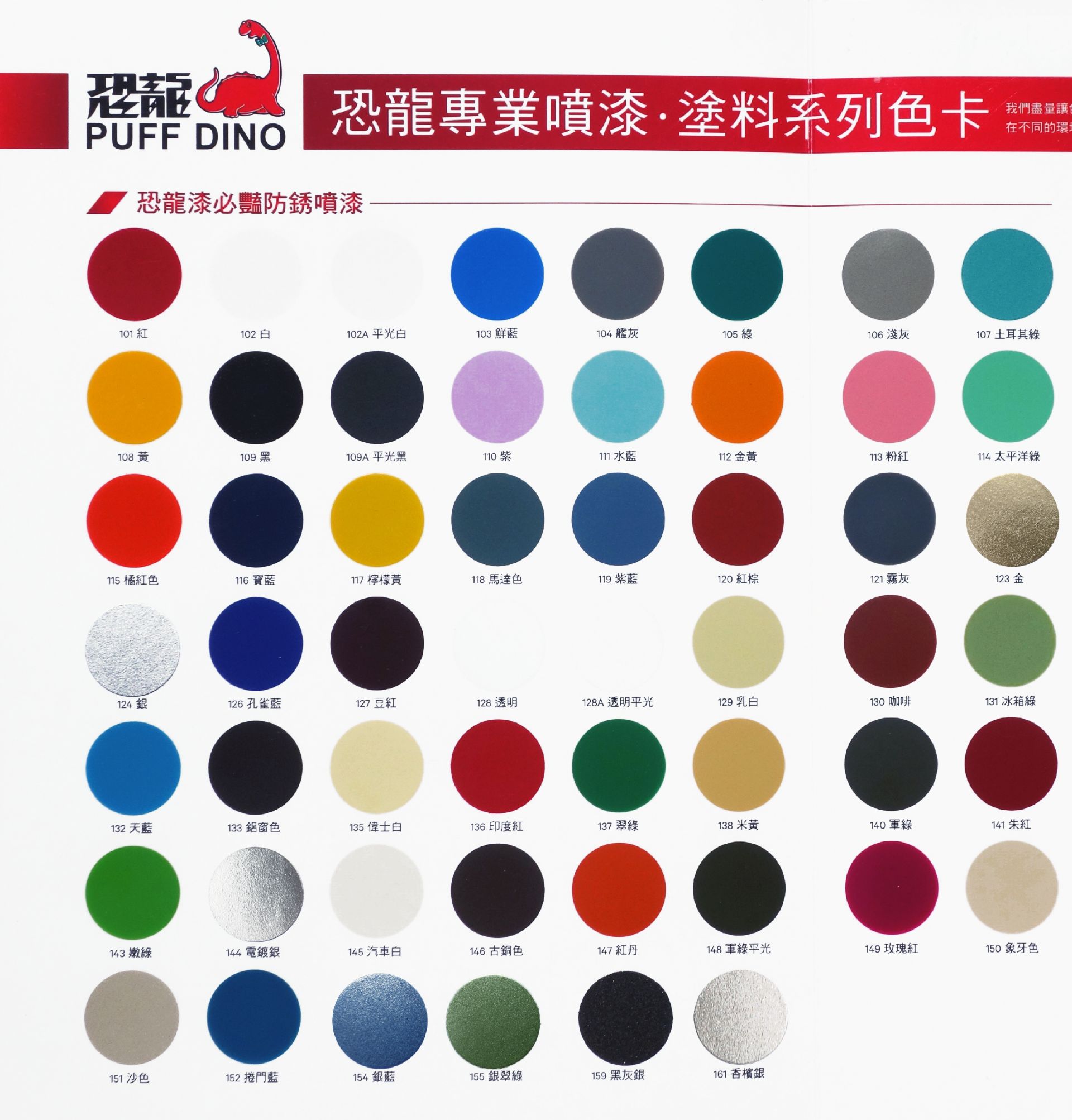 Main Ingredient
Water-based Resin, Pigment (not include in clear paint), Solvent, Propellant.
Specification
Volume : 400ml
Package : 6 pcs/case, 4 case/ctn
Package Size : 6.5 cm x 6.5 cm x 20.5 cm
Q&A
Q: Can the Spray Paint be applied on the aluminum alloy?
A: That is OK! Aluminum alloy can be attached. If the surface is too smooth, it is recommended to polish it before spraying, and the adhesion will be better.
Q: What is the difference between the matte light and flat light of the Spray Paint?
A: " Matte Light " is completely dull and will not reflect at any angle.
" Flat Light " is a shiny matte surface. Although it is matte, it will be slightly reflective.
The gloss of the bright light series of PUFF DINO Spray Paint is more than 80, on the other hands, the gloss of the flat light series is less than 20.
And the full flat light is completely dull.
Q: How to clean if you accidentally get the spray paint?
A: Use lacquer thinner or banana oil to remove paint with scouring pads.
By the way, turpentine is not easy to clean. It is usually used for general paint cleaning.
Q: Will the Spray Paint be conductive?
A: The general color of the paint will not be conductive, but the color containing silver powder pigment will be conductive, such as: 123 gold, 124 silver, 144 silver plating.
YOU MAY ALSO LIKE

---

Taiwan's first water-based spray paint. It's using leadless, eco-friendly formula that complies with RoHS standard. Suitable for materials like styrofoam, steel, wood, concrete surface, plastic(except PE, PP and soft plastic), acrylic. You can apply in space decoration, spray paint arts, vehicle, motorcycle color patch and DIY art work.

---

---

Puff Dino Spray Paint for Plastic comply with RoHS Standard, safe and non-toxic. The spray paint has outstanding adhesion for plastic. With the special selected most suitable colors for most vehicle plastic parts, it will make them look good as new.

---

---

PUFFDINO High Temp. Resistance Spray Paint has high temperature resistant properties. This prevent corrosion or acidification cause by high temperature. Suitable for high temperature equipment such as exhaust pipe, muffler engine, boilers and steam pipes. The flat color give metal surface a low-key luxury texture.

---

---

SDS AND REPORTS

---
Press Release
Puff Dino Blacking Spray

Fine quality of flat black color that is quick dry and has anti-rusting effect.

Read More

Lemon Sticker Remover Spray

Effectively remove many different type adhesive, and even aged adhesive residue.

Read More

Water-based Spray Paint

Lead-free, water-based environmental spray paint that comply with RoHS standard.

Read More