PUFF DINO Spray Paint for Plastic
plastic spray paint, ABS plastic spray paint, bumper spray paint, Pedal paint
Color: Flat Gray, Flat Black
Puff Dino Spray Paint for Plastic comply with RoHS Standard, safe and non-toxic. The spray paint has outstanding adhesion for plastic. With the special selected most suitable colors for most vehicle plastic parts, it will make them look good as new.
Special Features
Simple to use: It will work perfectly with just few sprays on the plastic.
Weather Resistance: With our special select resin, it will stand longer under UV from sunlight than any regular spray paint.
Low-key Luxury: By use the most attractive 20° gloss paint that makes painted plastic parts perfect matching with other parts.
Applications
Suitable For Parts That Using PP Plastic, For Example Motorcycle Footrest, Handlebars, Plastic Shell Near Dashboard, Mudguard, Plastic Car Bumper.
Physical Property Information
Adhesion: Hundred grid test ≧95% (Standard procedures)
How to use
Please clean all the dirt and grease out of surface before spray. If the plastic surface is already powdery like, you must use sandpaper or scouring pads to smoothing surface then clean up before spray.
Use newspaper or masker tape to cover any other parts that does not need to spray.
Shake the spray can for 15 second to get a good mixed inside the can before spraying.
Keep the nozzle 15 ~ 20cm above the object and spray with thin layer coating. For every coating process we suggest spray horizontally then vertically to ensure coating even and smooth.
You can spray more than once depending on the situation, but you need to wait for the last coating fully dry up before you doing next.
After use, please press the can upside-down for few second to prevent paint block the nozzle.
If spray on the wrong part, you can clean it up with solvent. However the solvent may damage the object surface, use it carefully.
Main Ingredient
Pigment For Plastic, Anti-UV Resin, Solvent, LPG
Specification
Volume: 400ml
Package: 6 pcs/case, 4 case/ctn
Package Size: 6.5 cm x 6.5 cm x 20.5 cm
Actual product apply sample: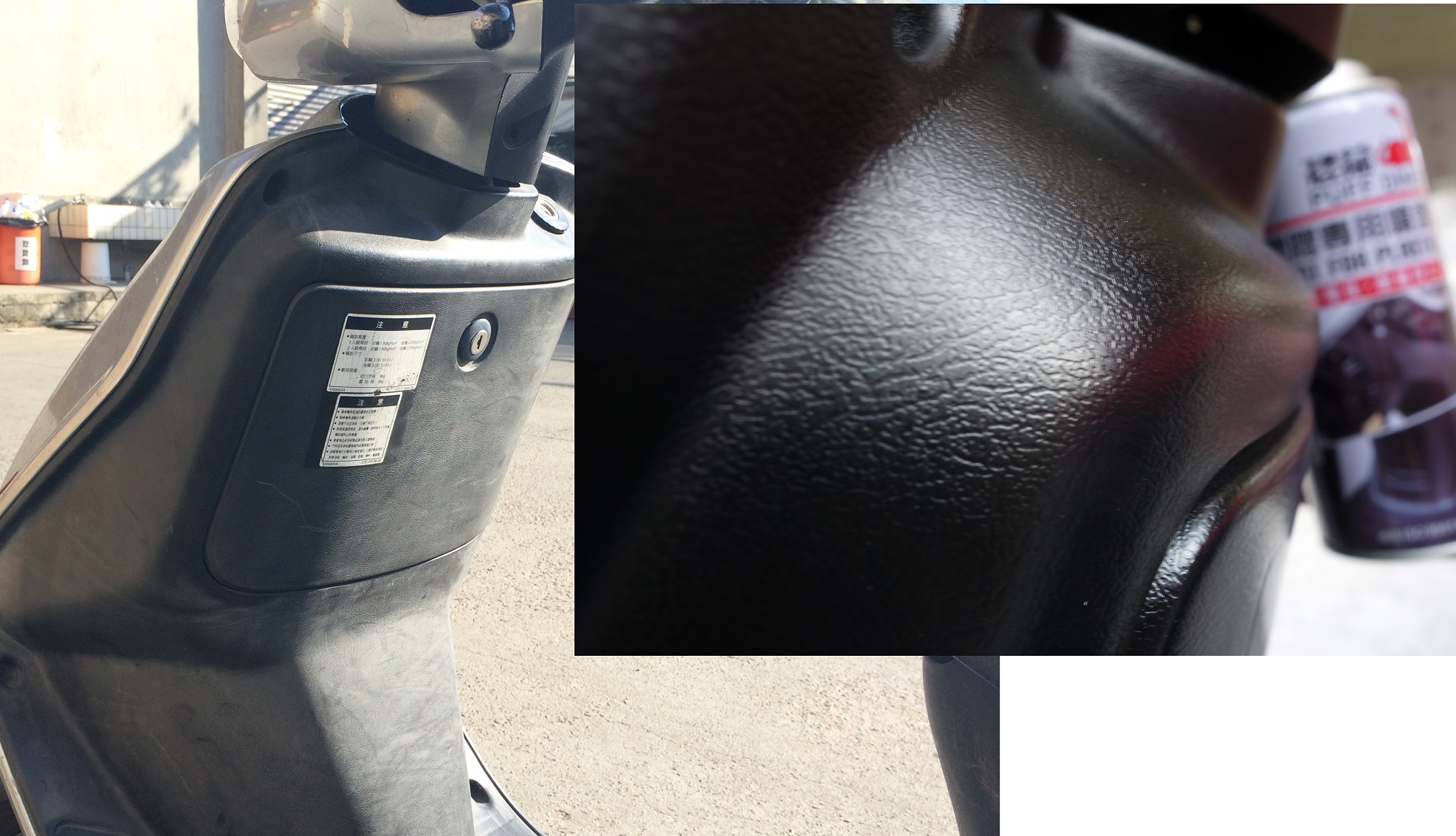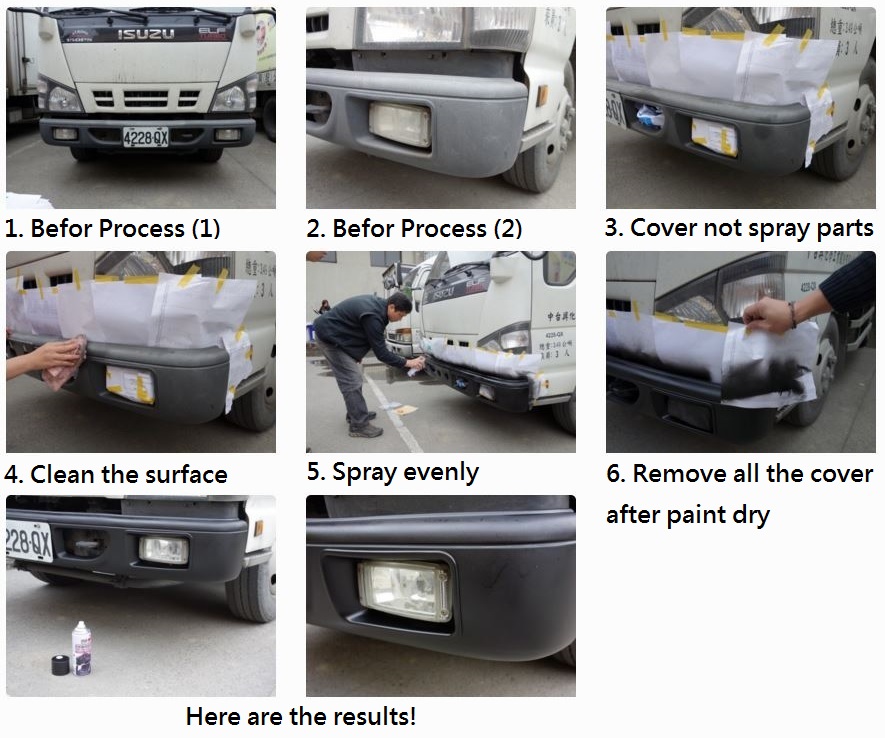 YOU MAY ALSO LIKE

---

PUFFDINO High Temp. Resistance Spray Paint has high temperature resistant properties. This prevent corrosion or acidification cause by high temperature. Suitable for high temperature equipment such as exhaust pipe, muffler engine, boilers and steam pipes. The flat color give metal surface a low-key luxury texture.

---

---

Puff Dino Blacking Spray use fine grinding carbon black pigment that has blacking effect on object surface. It works on metal materials like iron, stainless steel and aluminum or other materials like ABS. The color of blacking spray is flat black with fine quality. It also provide anti-oxidation protection to aluminum without anodize.

---

---

SDS AND REPORTS

---
Press Release
Puff Dino Blacking Spray

Fine quality of flat black color that is quick dry and has anti-rusting effect.

Read More

Lemon Sticker Remover Spray

Effectively remove many different type adhesive, and even aged adhesive residue.

Read More

Water-based Spray Paint

Lead-free, water-based environmental spray paint that comply with RoHS standard.

Read More