PUFF DINO Peelable Metal Protective Film Spray
Removable metal protective film, metal anti-rust film, removable plastic film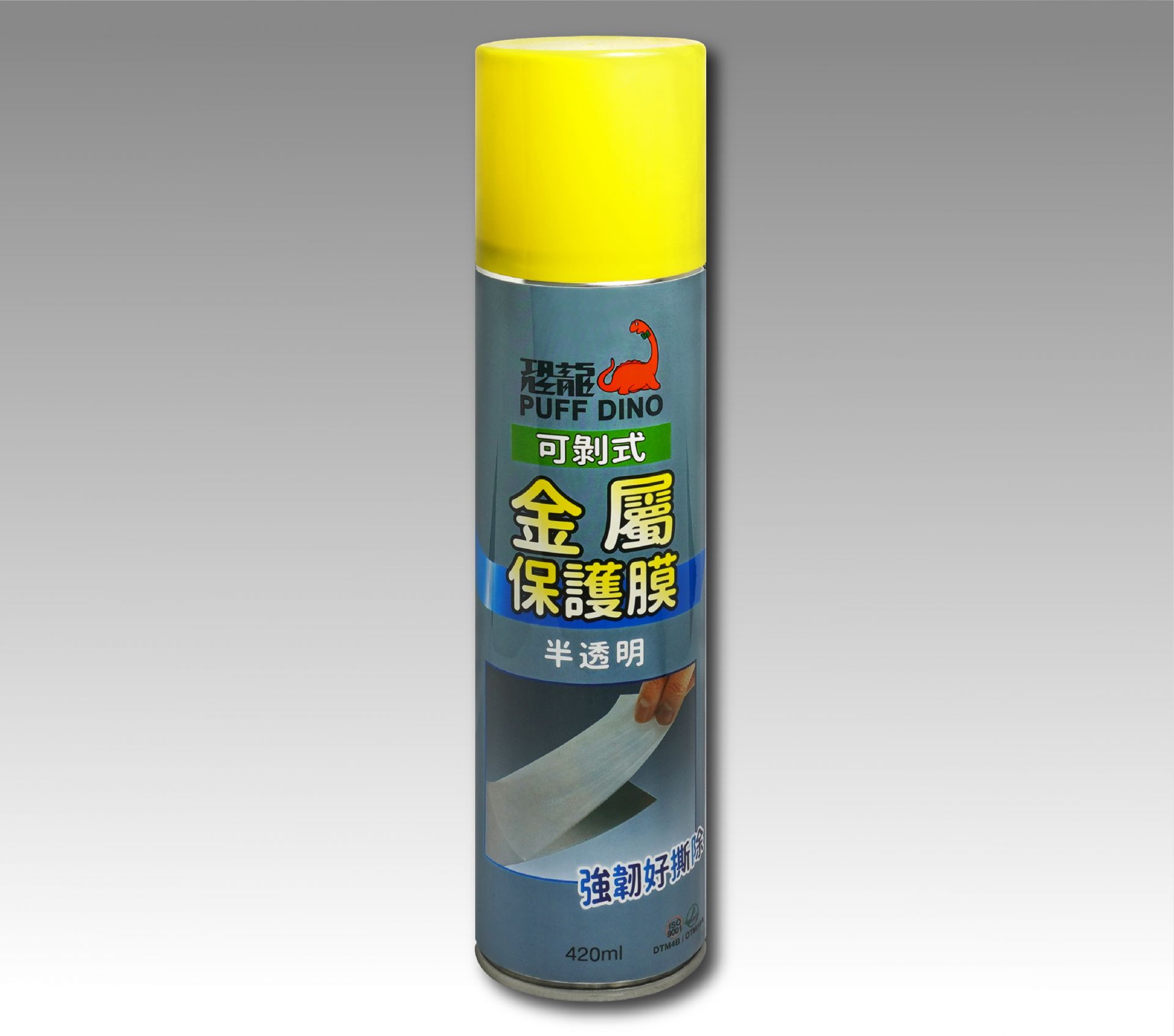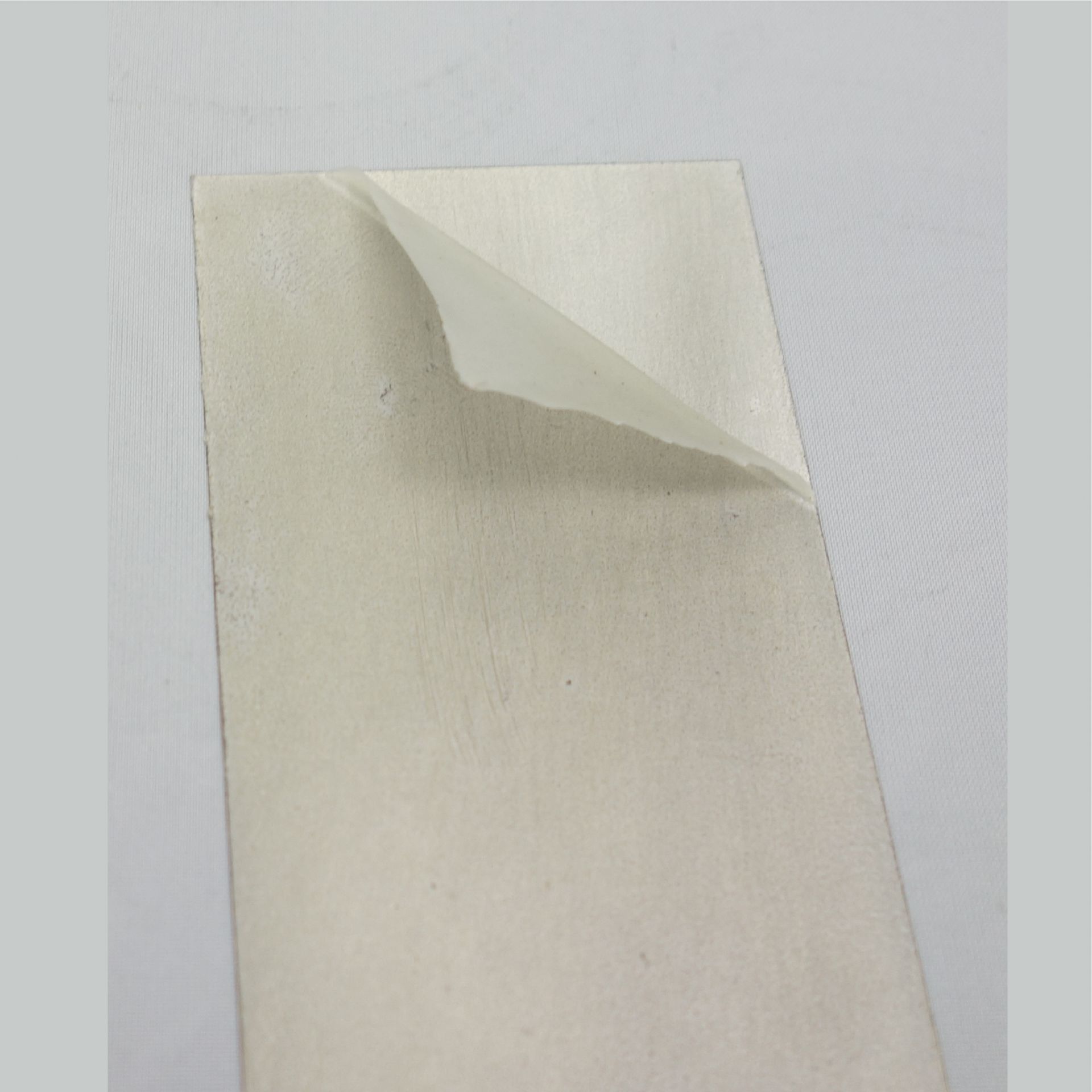 PUFF DINO Peelable Metal Protective Film is a rust and stain protection product that can be "peel off when necessary".
It is suitable for metal mold, plating surface of mechanical product or polished surface with anti-rust, scratch and stain proof effects.
When the spray dried, it will form a translucent film that has strong toughness and easy to peel off ability when don't need it.
When peel off, the item under it will good as new. The formulations containing gasification rust inhibitor, this can be released antirust ingredient to fill in packing voids and provide excellent anti-corrosion effect.
Special Features
The dried film is nontoxic, acid and alkali resistance, water-proof, anti-fouling and Anti-rust.
The spray has short drying time and good electricity insulation. The transparency of the film is depending on how much moisture in the air during process.
You can easily peel off when don't need it. It won't stick your hand and not pollution.
Applications
Anti-Rust: Vehicle, Equipment, Martial Art Training Equipment.
Damage Proof: Surface Protection On Glass Ware, Stainless Steel, Zinc Plate, Plastic Plywood, Polished Surface.
Electricity Insulation: Protecting Electrical Appliance Part and Insulation.
Moisture Repel: Give protection in humid or ocean environment.
Storage Preserve: Help to Preserve Items, Machine or Parts During Storage.
HOW TO USE
1. Pre-process: Clean up object surface to remove all the dirt and grease with cleaning agent, solvent or alcohol then wait for it dry.
2. Using masker tap to cover the area not need to spray.
3. Keep the nozzle 10 ~ 15cm above the surface when spray, then wait for 10 ~ 15 minutes to spray second layer. We suggest you spray at least two layer for more even coating and better protection.
4. The touch dry time is about 30 ~ 40 minutes, and the fully hardness dry time at room temperature is about 2 hours.
5. Ever film layer is about 0.015 ~ 0.020mm thickness and the best thickness the about 0.05mm. If the film layer is too thin, it may difficult when peeling.
6. If the film is too thin and unable to peel, just spray few more on then it can be peel off.
7. Do NOT apply onto acrylic or wood surface. It is due to solvent may damaging the material.
8. After use, please press the can upside-down for few second and clean to prevent block the nozzle.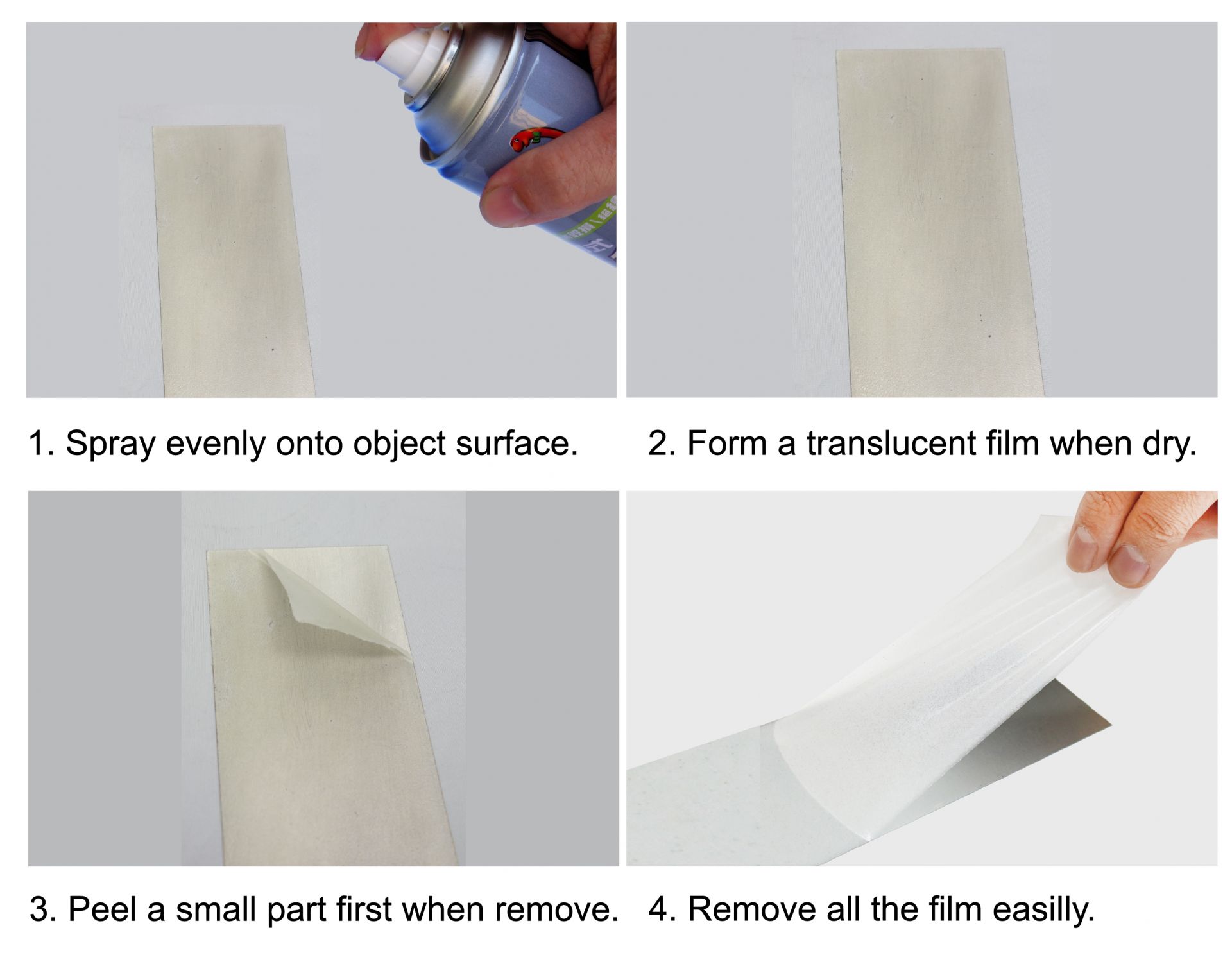 Main Ingredient
Polymer Resin, Solvent, Propellant.
Specification
Volume: 420ml
Package: 12 pcs/ctn
Product Size: 6.0 cm x 6.0 cm x 24.5 cm
Film Color: Translucent
Q&A
Q: Is it suitable for using in car headlights?
A: When the car headlight is made of metal or glass, it can be used when it is stored at room temperature without high heat, that is, or used without electricity when it is heated.
If the car headlight material is made of plastic, it is not recommended to use it because the chemical liquid solvent may corrode the plastic surface.
Q: Can it be stored outdoors after using?
A: This protective film is temporary, so it has poor weather resistance and is not suitable for outdoor use or storage.
If embrittlement occured, it can be removed with acetone, toluene and xylene.
Q: Heating and drying quickly, can it be completed within a few minutes?
A: After a single layer of spray coating, put it in the environment of 40 ℃-50 ℃, the drying time can be shortened to about 10 minutes. Place at room temperature for 2 hours.
Q: How many times do you need to spray 50μm after drying?
A: After 3 to 4 repeated sprays, the film thickness should be estimated to be 50μm.
Q: Will this protective film conduct electricity?
A: The film formed after drying is insulated and non-conductive. However, because the PUFF DINO Peelable Metal Protective Film belongs to the spray type product, if it is used in the power switch and accessories, the gas in the tank will be sprayed out during the continuous power supply, which is still dangerous. The power needs to be turned off, and the power must be turned on after the gas has dissipated after construction.
YOU MAY ALSO LIKE

---

Puff Dino Blacking Spray use fine grinding carbon black pigment that has blacking effect on object surface. It works on metal materials like iron, stainless steel and aluminum or other materials like PVC and ABS. The color of blacking spray is flat black with fine quality. It also provide anti-oxidation protection to aluminum without anodize.

---

---

Puff Dino 601 polymer coating has abilities like waterproof, water repellent, high temperature resistance, anti-corrosion, electrical insulation and more. The coating will harden under normal room temperature and form a high hardness transparent film at object surface. It is easy to use and suitable for most of materials. For example, metal, wood, ceramics, plastic, acrylic...etc.

---

---

PUFF DINO long lasting anti-rust is designed for the metal objects which need long-term protection. It forms a super thin and non-greasy film to protect metals from oxidation and corrosion. The protection effect is much more than regular anti-rust products.

---

---

SDS AND REPORTS

---
Press Release
Puff Dino Blacking Spray

Fine quality of flat black color that is quick dry and has anti-rusting effect.

Read More

Lemon Sticker Remover Spray

Effectively remove many different type adhesive, and even aged adhesive residue.

Read More

Water-based Spray Paint

Lead-free, water-based environmental spray paint that comply with RoHS standard.

Read More