PUFF DINO Long-Lasting Anti-Rust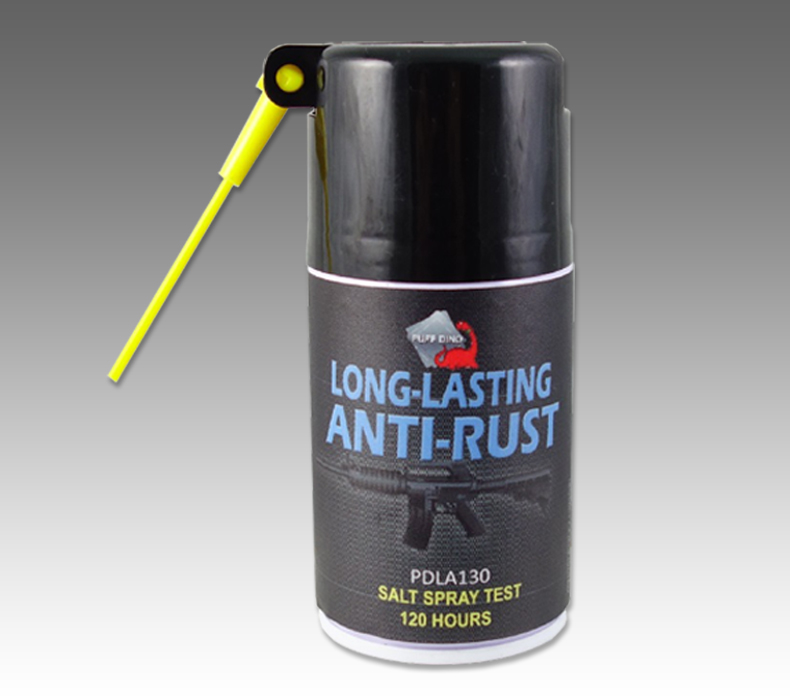 Special formulated to serve one purpose anti-rusting effect.
It is design for long-term anti-rust protection on all the metal components that can last few times longer than regular anti-rust oil.
Taking care and protecting your guns during long term storage.
With thin oil layer, there won't be dust buildup, nor will cause nearby area dirt.
Special Features
1. This product has passed 120 hours SGS ASTM B117-03 salt-water test to prove the long-term anti-rust effect.
2. It's comply with RoHS environmental standard and would not increase environmental burden.
3. Just one spray, it will form a clear semi-dry anti-rust layer without dripping and not left over grease stain; keep your gun parts and workshop clean.
4. The spray can penetrate into smell gap and forms a protecting layer within the gap too.
Main Ingredient
Long lasting anti-rust agent, Solvent, Propellant
Specification
Volume: 130ml
Package: 12 pcs/ctn
Product Size: 5.2 cm x 5.2 cm x 17.6 cm
Press Release
Puff Dino Blacking Spray

Fine quality of flat black color that is quick dry and has anti-rusting effect.

Read More

Lemon Sticker Remover Spray

Effectively remove many different type adhesive, and even aged adhesive residue.

Read More

Water-based Spray Paint

Lead-free, water-based environmental spray paint that comply with RoHS standard.

Read More