PUFF DINO Long Lasting Anti-Rust - 1G
Long Lasting Anti-Rust, Super Anti-Rust, Anti-Rust Coating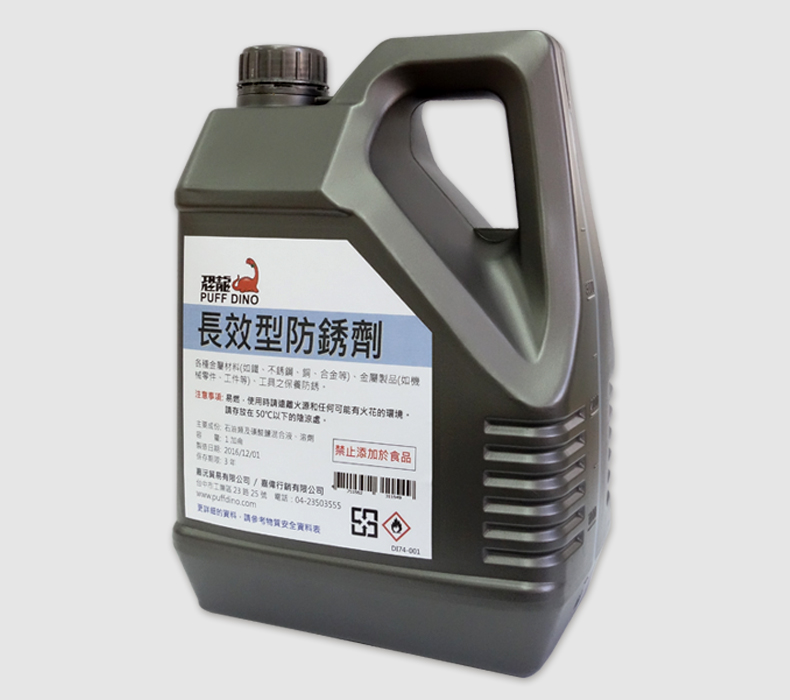 PUFF DINO long lasting anti-rust is designed for the metal objects which need long-term protection.
It forms a super thin and non-greasy film to protect metals from oxidation and corrosion. The protection effect is much more than regular anti-rust products.
Packing of 5G can be applied by spray gun or dip-coating.
Special Features
This product has passed 120 hours SGS ASTM B117-03 salt-water test to prove the long-term anti-rust effect.
It's comply with RoHS environmental standard and would not increase environmental burden.
Just one spray, it will form a clear semi-dry anti-rust layer without dripping and not left over grease stain; keep your workpiece and workshop clean.
The spray can penetrate into smell gap and forms a protecting layer within the gap.
Applications
Protecting metal and metal products from corrosion (oxidation) caused by sea water and moisture during the long sea shipment.
Prevent metal items rust in long-term storage.
Extend the life of metal products.
Form a very thin film on the surface of electrical parts, isolate moisture and improve conductivity.
Apply on rubber or plastic mold, the mold can be directly work without cleaning. After 3 to 4 mold, it will remove the oil from injection hole without grease cleaning process. Save power, labor and solvents, comply with environmental requirement.
Suitable Materials
Metal material like iron, stainless steel, copper, alloy...etc.
Metal product like mechanical parts, workpiece...etc.
Injection Molding Machine.
How to use
For large area or object : apply with spray gun can easy finish the coating.
For completed parts : apply by dip-coating.
Make sure every object is coated with the anti-rust agent.
It needs around 24 hrs to form the full anti-rusting effect, So don't make the object contact with any water during the time.
Specification
Volume : 1G(3.78L)
Product Size : 11 cm x 18.5 cm x 27.5 cm
.
INGREDIENT : Long Lasting Anti-Rust Agent、Solvent
Tag
Long-term Anti-rust
Barcode: 4711552311549
YOU MAY ALSO LIKE

---

PUFF DINO long lasting anti-rust is designed for the metal objects which need long-term protection. It forms a super thin and non-greasy film to protect metals from oxidation and corrosion. The protection effect is much more than regular anti-rust products.

---

---

PUFF DINO long lasting anti-rust is designed for the metal objects which need long-term protection. It forms a super thin and non-greasy film to protect metals from oxidation and corrosion. The protection effect is much more than regular anti-rust products. Packing of 5G can be applied by spray gun or dip-coating.

---

---

SDS AND REPORTS

---
Press Release
Puff Dino Blacking Spray

Fine quality of flat black color that is quick dry and has anti-rusting effect.

Read More

Lemon Sticker Remover Spray

Effectively remove many different type adhesive, and even aged adhesive residue.

Read More

Water-based Spray Paint

Lead-free, water-based environmental spray paint that comply with RoHS standard.

Read More