PUFF DINO High Temperature Resistance Spray Paint
Heat resistant spray paint, Exhaust pipe spray paint, boiler paint, engine paint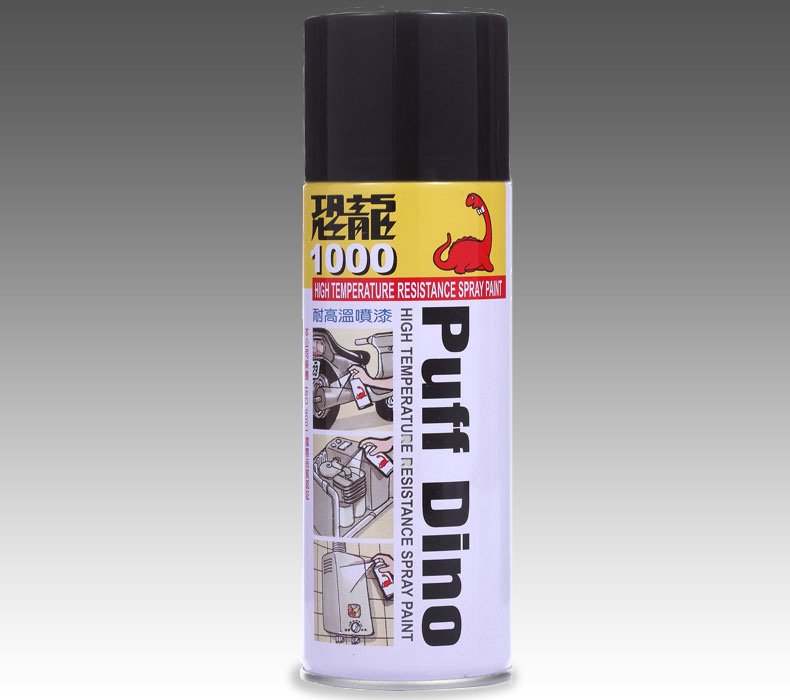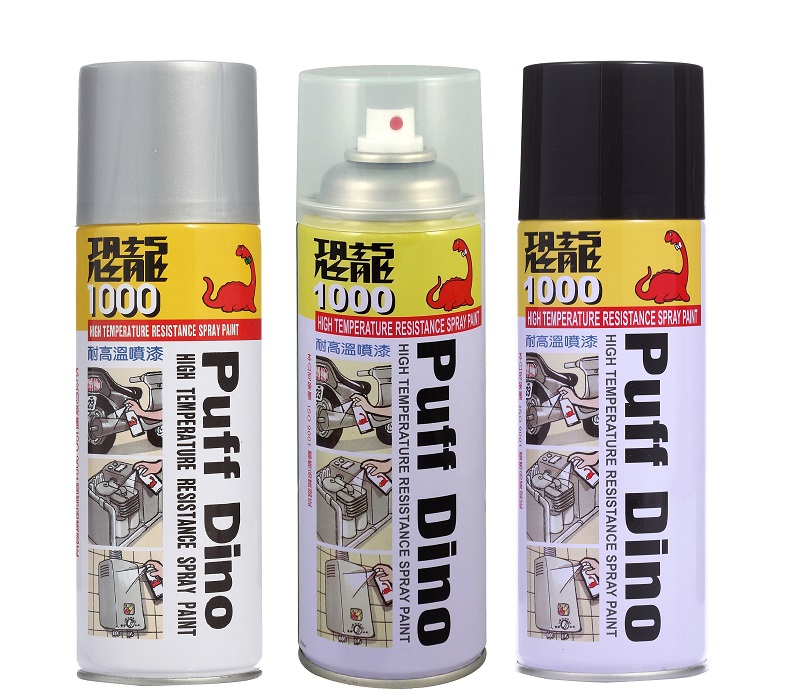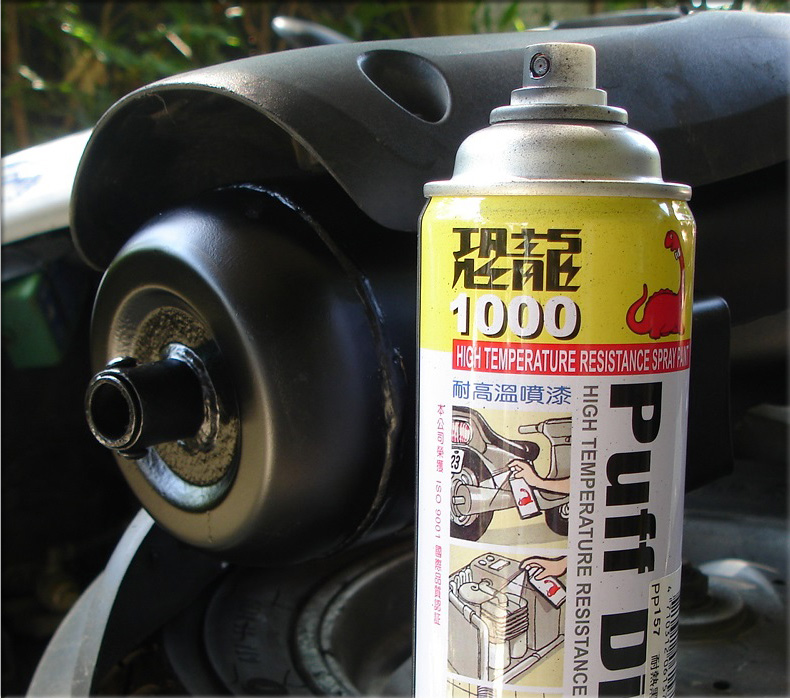 PUFFDINO High Temp. Resistance Spray Paint has high temperature resistant properties.
This prevent corrosion or acidification cause by high temperature.
Suitable for high temperature equipment such as exhaust pipe, muffler engine, boilers and steam pipes.
The flat color give metal surface a low-key luxury texture.
Special Features
Comply with CNS2949 high temperature resistance paint test standard.
Heat resist temperature: instantaneous temperature up to 650°C (1202°F) and constant temperature 200°C (392°F).
Good adhesion to metal material.
Applications
High temperature resistances prevent heat or acidification causes corrode.
Suitable High Temperature Equipment Like Vehicle Exhaust, Muffler, Boiler, Steam Pipe.
Physical Property Information
Adhesion: Hundred grid test ≧95% (Standard procedures)
Spray Coverage: 3 m2
Heat Resist Temperature: - Instantaneous temperature up to 650°C (1202°F)- Constant temperature 200°C (392°F)
Glossiness: <20%
Three flat color to choose-

glossiness less than 20%

:



How to use
Clean up the object surface and remove all the rust, grease, dust before you spray.
Cover area that does not need to spray with masking tap. You can use old newspaper to help covering large area.
If object surface is not very smooth, please polish with grit size P250 ~ 400 sandpaper to ensure the best adhesion.
Clean up all the dust from surface after adhesion. Use cleaning naphtha spray to fully clean the area.
Shake the spray can get a good mixed inside the can before spray.
Keep the nozzle 20cm above the object when spraying.
Standard spray process(1 layer): Spray horizontally once than vertical.
Spray multiple times of thin layer to ensure cover whole object. Leave 10 minutes gap between each spray to make paint more durable and colorful.
After use, please press the can upside-down for few second to prevent paint block the nozzle.
For remove the paint, you need to use isoamyl acetate onto the area.
Precautions:
1. Raining or humid air environment does not suitable to apply spray paint. Please operate in relative humidity under 80% environment to achieve best effect.
2. High Temp. Resistance Spray Paint needs hight temperature process to fully hardening. If apply on surface area that does not contact hight temperature, than the paint will not comply crosslinking reaction. It may resulting whitening during raining days.
Main Ingredient
Resin, Pigment, Organic Solvent, Propellant.
Specification
Volume: 400 ml
Package: 6 pcs/case, 4 case/ctn.
Product size: 6.5 cm x 6.5 cm x 20.5 cm

SDS AND REPORTS

---
Press Release
Puff Dino Blacking Spray

Fine quality of flat black color that is quick dry and has anti-rusting effect.

Read More

Lemon Sticker Remover Spray

Effectively remove many different type adhesive, and even aged adhesive residue.

Read More

Water-based Spray Paint

Lead-free, water-based environmental spray paint that comply with RoHS standard.

Read More