PUFF DINO Headlight Restorer
Headlight Restoration, Headlight Cleaner, Headlight Polish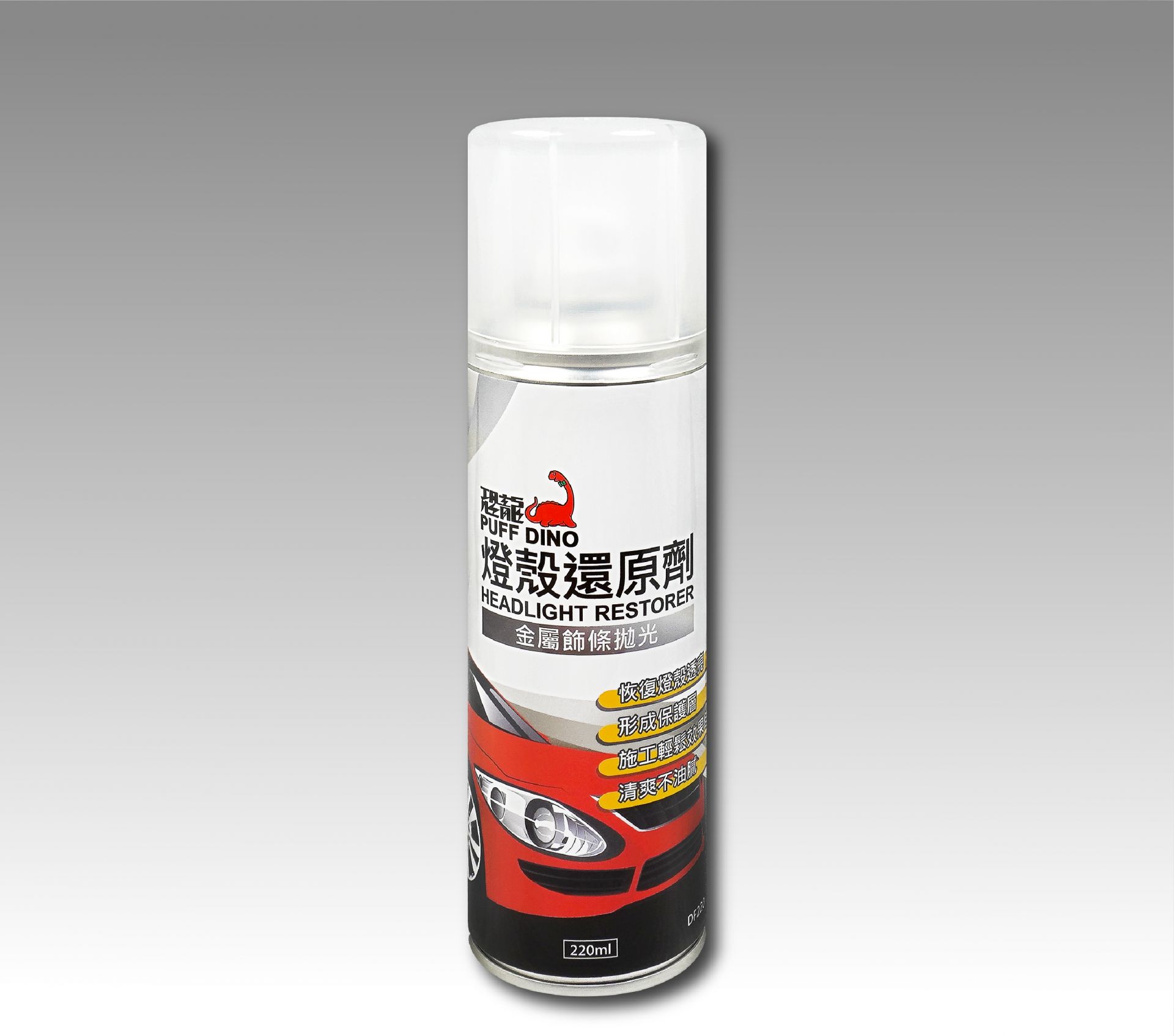 PUFF DINO Headlight Restorer can restore the aging or yellowing headlight.
Effectively improve atomization and repair slight scratches.
Show off the translucent luster of the headlights again, increase visibility and make driving safer.
Special Features
Restore and repair the headlight
Form a protective layer
Easy-to-use and good effect
Refreshing and not greasy
Polish chrome trim
Applications
It is suitable for the surface of the vehicles light, such as headlights, direction lights, brake lights, etc., as well as chrome-plated trims and chrome-plated aluminum rings.
※ This product can only restore the surface of the headlight. It is not suitable for the problem of internal dirt and yellowing.
※ Not applicable to electroplated surface, painted surface, glass surface and soft plastic surface.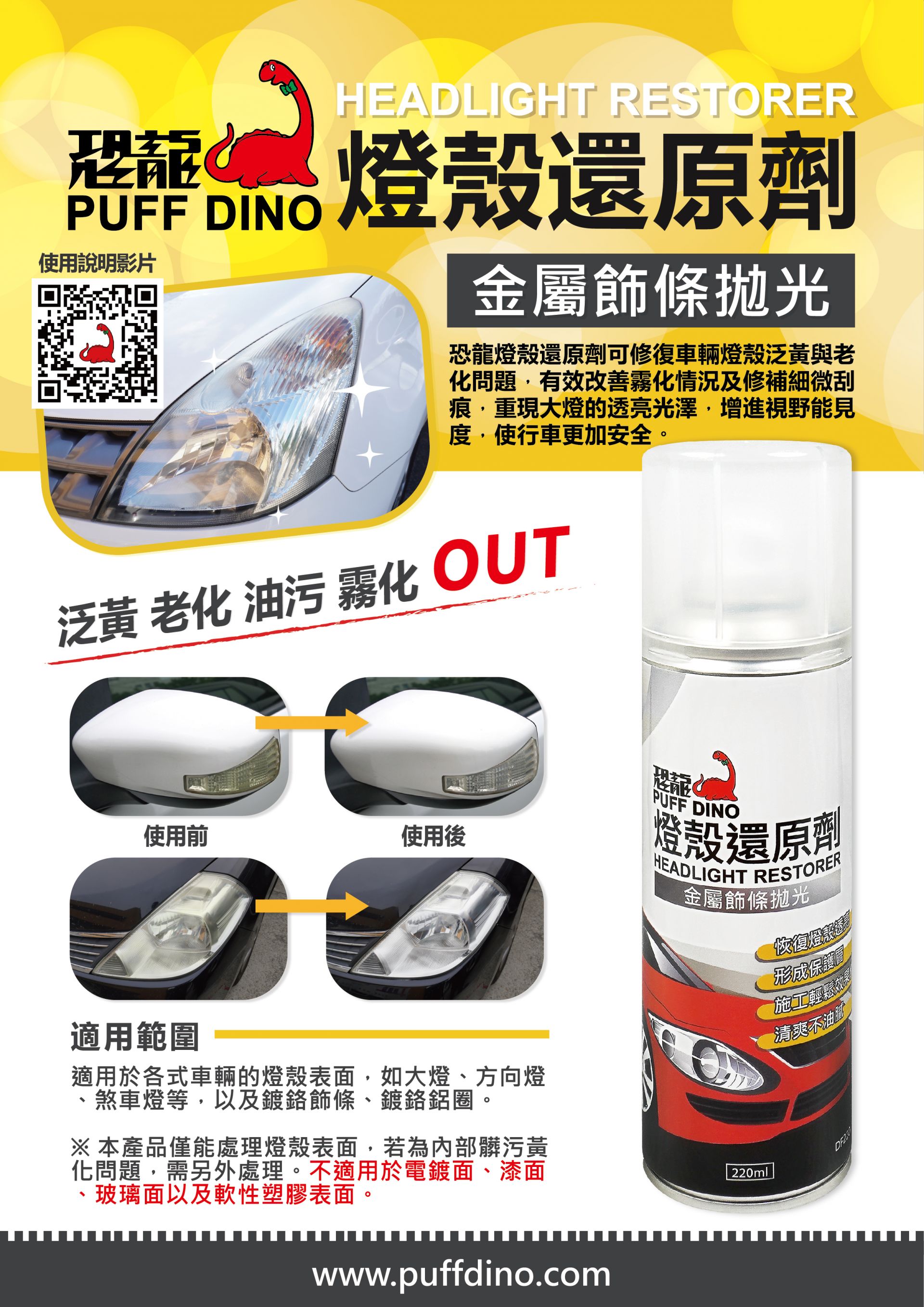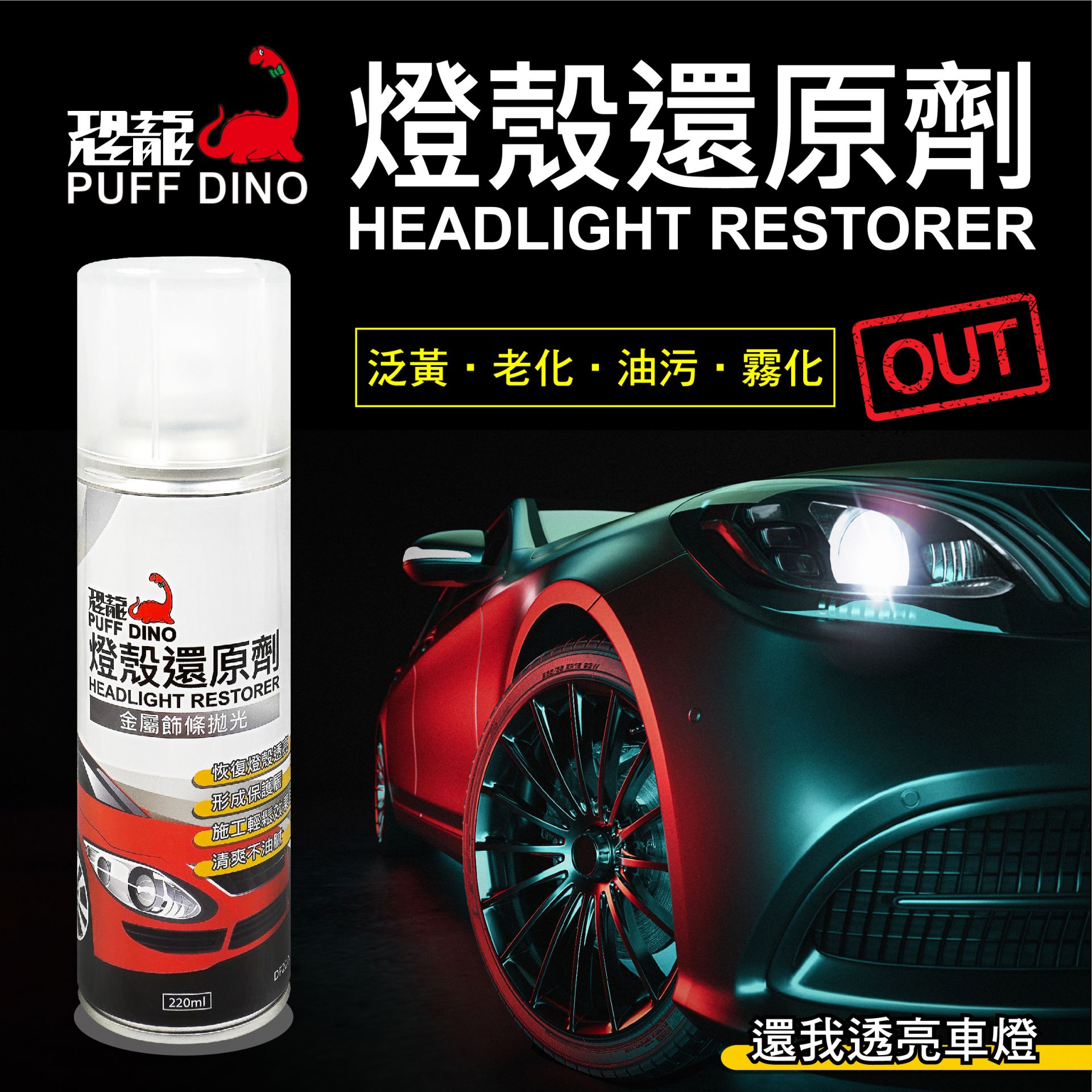 HOW TO USE
1. Clean the dust on the surface of the headlight and wipe off the moisture.
2. Shake well before using to mix the contents evenly.
3. Spray directly on the surface of the headlight and repeatedly wipe with a dry cloth until the headlight translucent. Or spray it on a dry cloth and wipe the surface of the headlight. (You can also use a wax polishing machine.)
4. It is recommended to work in small areas to avoid contaminating other parts.
5. It is recommended that people with sensitive skin wear gloves to apply.
Main Ingredient
Natural Cleaning Wax, Restorer, LPG.
Specification
Volume: 220ml
Package: 12 pcs/ctn
Product Size: 5.2 cm x 5.2 cm x 18.4 cm
Tag
Headlight Restoration
Headlight Cleaner
Headlight Polish
YOU MAY ALSO LIKE

---

This product is liquid cleaning wax with light lemon smell. Just gentle wiping the surface, it can clean and polish item at same time.

---

---

With high-transparent and advanced PTFE formula, PUFF DINO Glass Coating has better performance than traditional silicone resin products. It won't cause wiper judder or blurred vision. Applied on front and back windshield of vehicle, screen of 3C products and glass surface of furniture, it will perform a transparent protection layer over surface. It can prevent the formation of hard water spots. Applying coating to the glass of vehicle will repel both water and dirt from its surface. It also improves vision and reduces contaminants from sticking to its surface.

---

---
Press Release
Puff Dino Blacking Spray

Fine quality of flat black color that is quick dry and has anti-rusting effect.

Read More

Lemon Sticker Remover Spray

Effectively remove many different type adhesive, and even aged adhesive residue.

Read More

Water-based Spray Paint

Lead-free, water-based environmental spray paint that comply with RoHS standard.

Read More