PUFF DINO Fluorescent Paint
Fluorescent Paint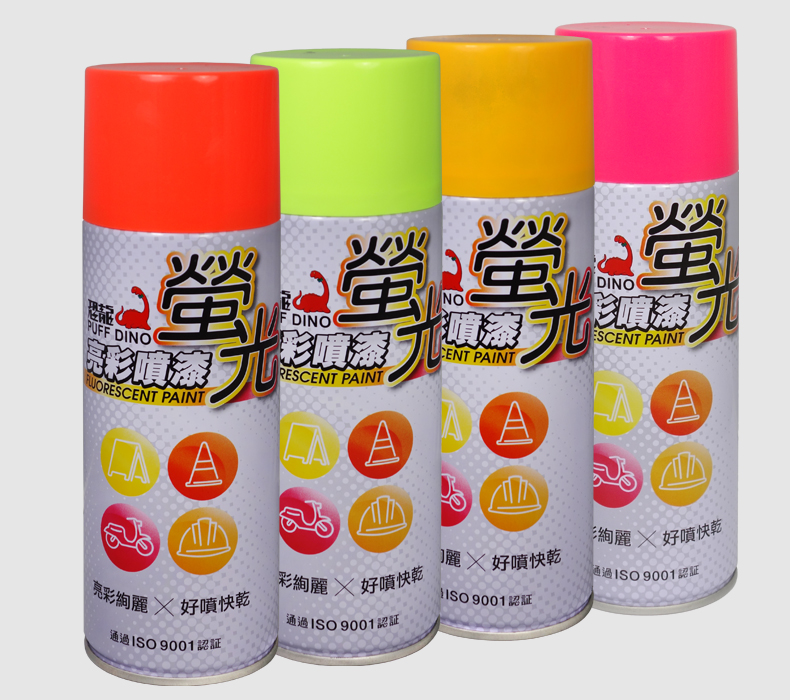 PUFF DINO fluorescent paint is very colorful、bright and always eye-catching. Can be used for reminding purpose on safety labeling as well as applied on works of art and craft.
In the general environment of light (including sunlight and fluorescent lamp), the fluorescent color is very striking; if in a dark space with UV light, the fluorescence will be the most dazzling brilliance.
PUFF DINO Fluorescent Paint complies with the RoHS standards, safe non-toxic, can be applied on both indoor and outdoor.
Suitable for metal、stone、concrete and wood。
4 Colors Available :
401 Orange Yellow. 402 Tangerine Red. 403 Pink. 404 Lemon Yellow

Special Features
Dry faster : featured resin, dry faster than the general paint.
High coverage rate : standard spray twice can cover background.
Dazzling brilliance : always attracted attention of everyone's attention.
Physical Property Information
Standard spraying method

Spray two layers

Painting time interval

5-10 minutes

Touch time

25 -35 minutes

Fully curing time

24 hours

Flexibilitas


(6 mmÆDiameter round bar)

Fold 180° with no breaking

Adhesion Test

≧

95% (metal applicable)

Temperature resistance

110

℃

for 2 hours, no darkening or foaming

Water resistance

-


Hot (Reverse Osmosis) 80

℃

<

10 minutes, paint film slightly fades but no softening,
foaming or stripping

Water resistance

-


Cold (Reverse Osmosis) 23

℃

12hours no fading or forming

Volatile oil resistance-
Soaked in cleaning naphtha for 2 hrs)


No change

Amount of coating (spray area)

2–3

㎡

depend on the spray method; recommended
to use flat white primer paint.

Gloss degree

Not applicable.

Cleaning method

Banana oil (paint thinner)
The information will be changed due to different use of the environment.
How to use
Clean the surface: oil and dust should be wiped clean.
Use newspaper or masking tape to protect parts that do not need to be painted.
It is recommended to use plain white primer paint (one layer is good) can more fully demonstrate the brightness of the fluorescence.
Before use, shake the paint can body about 10-15 seconds, so that the contents is well mixed.
Spray evenly the surface from about 15-20 cm, it is recommended to adopt a thin layer of spray construction.
It is recommended that each spray is painted left and right, and then move up and down spraying again, so staggered effect is more uniform and beautiful.
As the case of spraying one or two, but be sure to wait for the first dry and then spray the second.
Turn the paint spray can upside down after use and spray about 3 seconds to remove the paint in the nozzle to avoid blocking and can not be used again.
If accidentally touched elsewhere, please wipe with banana oil (paint thinner), but pay attention to whether it will damage the surface.
Specification
Volume:400 ml。
Package: 24 pcs/ctn ( 6 pcs/case,4 cases/ctn)。

Main Ingredient:Acrylic Resin、Fluorescent Pigment、Solvent、Propellant。
Press Release
Puff Dino Blacking Spray

Fine quality of flat black color that is quick dry and has anti-rusting effect.

Read More

Lemon Sticker Remover Spray

Effectively remove many different type adhesive, and even aged adhesive residue.

Read More

Water-based Spray Paint

Lead-free, water-based environmental spray paint that comply with RoHS standard.

Read More