PUFF DINO Cold Galvanizing
Anti-Rust Spray Paint, Galvanized Spray Paint, Galvanized Paint, Zinc Spray Paint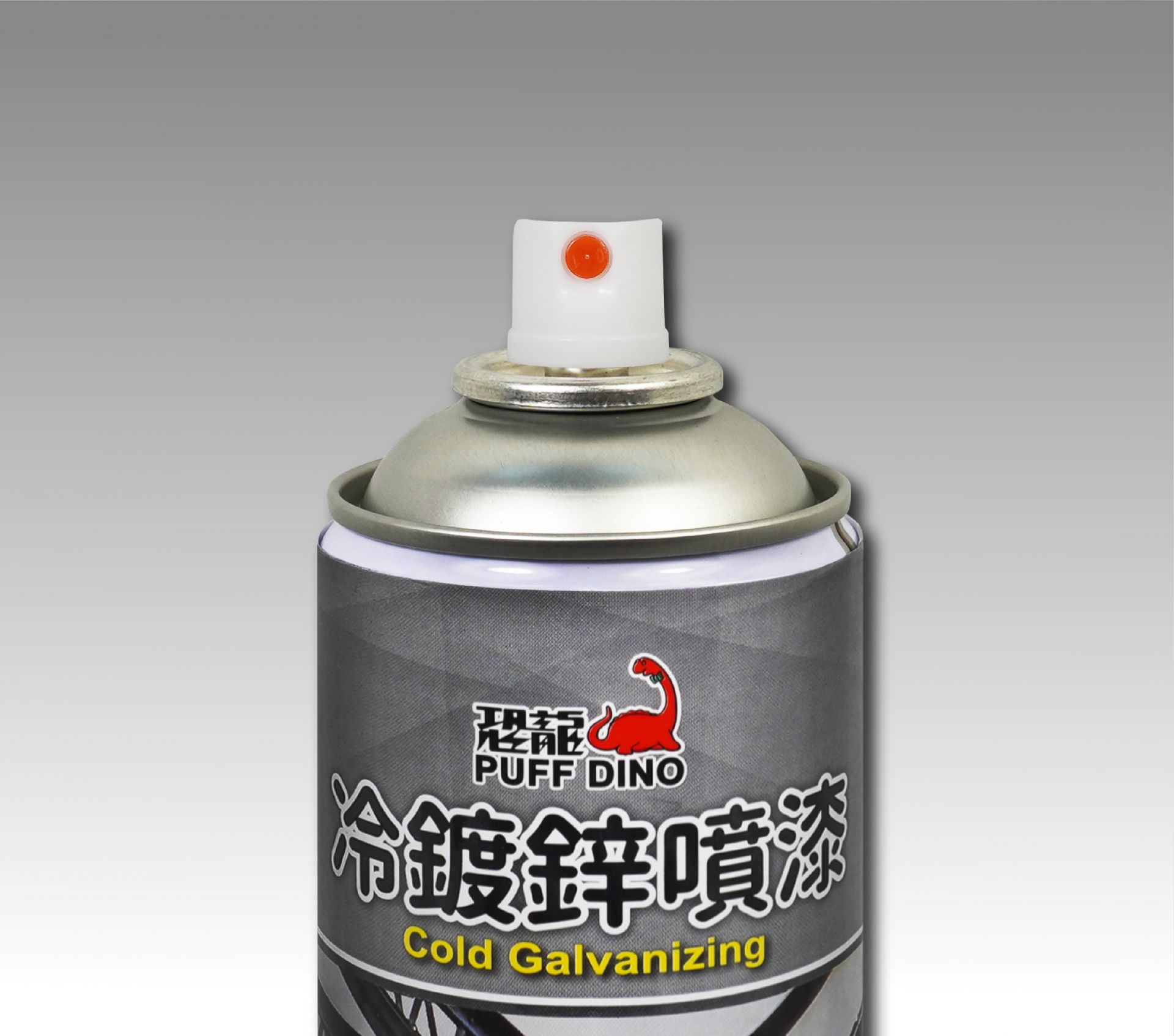 PUFF DINO Cold Galvanizing has a good effect on anti-rust. It complies with EU RoHS standards. After spraying, it will form a strong galvanized protective layer on the metal surface. The zinc included is up to 96% so that it has the perfect effect of anti-rust as hot galvanizing. This can be used for indoor and outdoor metal parts , which has the effect of long-lasting, anti-rust, anti-corrosion and good adhesion. Even that can repair damaged metal surface, anti-scratch and wear-resistant.
SPECIAL FEATURES
● Well Anti-Rust : The zinc included is up to 96%, so that anti-rust effect is excellent.
● Great Adhesion : Pass the salt spray anti-rust test for 1000 hours, best protection.
● Light Odor : No heavy paint smell, almost tasteless after drying.
● Quick Dry : Dry up after few minutes and saves process time at production line.
● Environment protection : Comply with RoHS environmental standard and would not increase environmental burden.
Applications
Suitable for galvanized sheet, steel frame, steel pipe, machinery, railing, ship, motor vehicles, etc.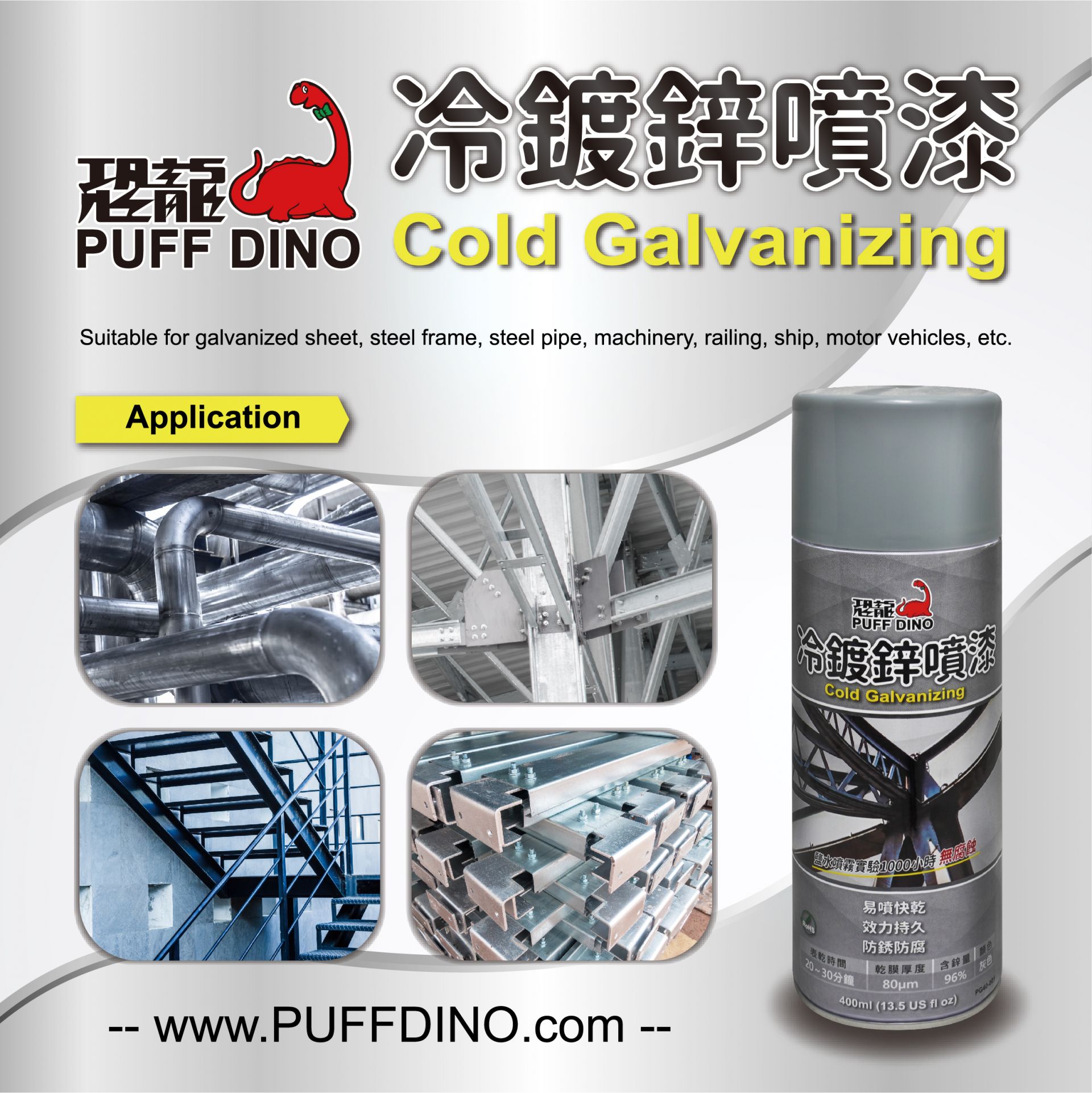 HOW TO USE
1. Before spraying, you must clean up the entire object surface to remove all the grease and dirt to ensure that the coating is evenly sprayed onto the object.
2. Use newspaper or masker tape to cover any other parts that doesn't need to spray.
3. Shake the spray can for 15 second to get a good mixed inside the can before spraying. It is best that you hear the impact of the steel balls in the tank.
4. Keep the nozzle 10-15 cm the object when spraying. If spraying too close, it may cause drip or foam on object surface.
5. It is recommended to spray multiple times with thin layer to ensure cover whole object. Leave 10 minutes between every spray.
Standard spraying method (one layer): move one spray left and right, then one spray up and down.
6. After using, please press the can upside-down for few second to prevent paint block the nozzle.
7. This product is recommended for using in an environment with a temperature of 15 ° C to 30 ° C and a humidity of less than 70%.
Main Ingredient
Resin, Zinc Powder, Solvent, DME
Specification
Volume: 400ml
Package: 24 pcs/ctn
Product Size: 6.5cm x 6.5cm x 19.6cm
Demonstration of Cold Galvanizing
Tag
Anti-Rust Spray Paint
Galvanized Spray Paint
Galvanized Paint
Zinc Spray Paint
YOU MAY ALSO LIKE

---

Puff Dino Blacking Spray use fine grinding carbon black pigment that has blacking effect on object surface. It works on metal materials like iron, stainless steel and aluminum or other materials like PVC and ABS. The color of blacking spray is flat black with fine quality. It also provide anti-oxidation protection to aluminum without anodize.

---

---
Press Release
Puff Dino Blacking Spray

Fine quality of flat black color that is quick dry and has anti-rusting effect.

Read More

Lemon Sticker Remover Spray

Effectively remove many different type adhesive, and even aged adhesive residue.

Read More

Water-based Spray Paint

Lead-free, water-based environmental spray paint that comply with RoHS standard.

Read More