PUFF DINO 198 Semi-Dry Lubrication for Roller Chain
Dry Lube, Roller Chain Lubricating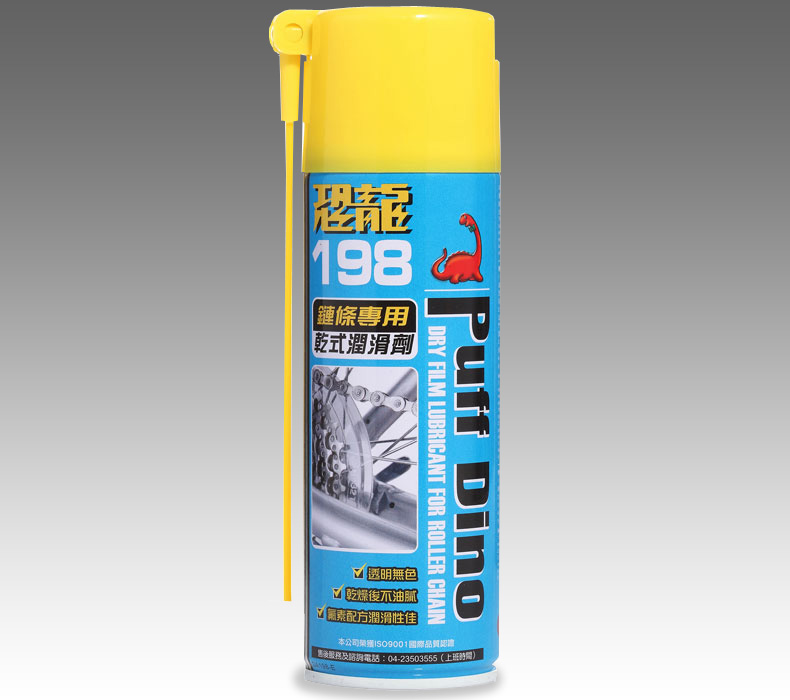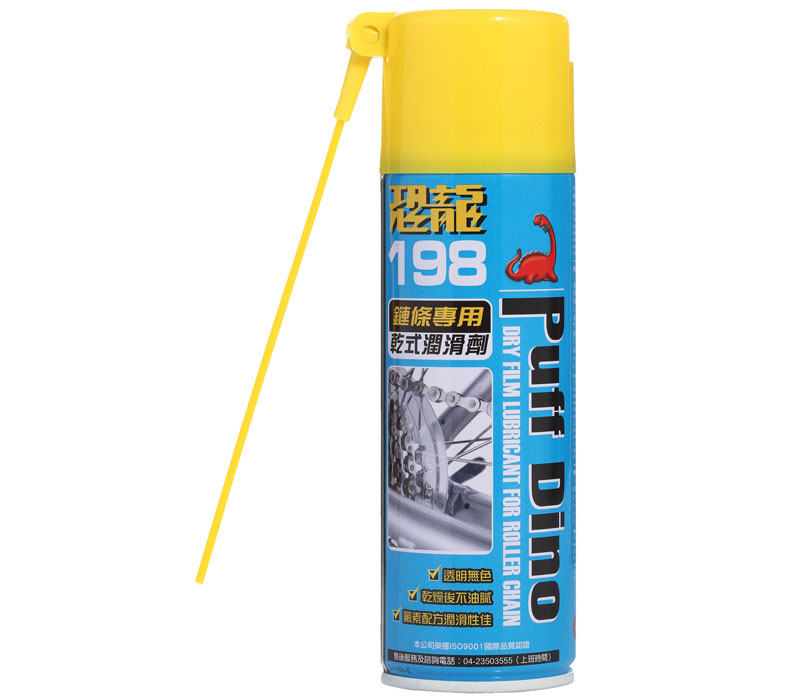 Traditional lubrication not only would react with chine and leads to carbonization but also attracts dusts and dirt which wear out your chains and gear wheels resulting shorten lifespan. However with PD-198 we add in PTFE formula provides a long-lasting lubrication to reduce frictions and operates smoothly for metal moving parts.
After sprayed, it will quickly dries and forms a transparent, semi-dry layer protecting metals from rust and corrosion. Non-greasy and would not attract dust and other substances.
PD-198 is suitable for chains, gears, hinges, bearings and any metal objects that need long-term dry lubrication.
Special Features
It foams a smooth and nonstick membrane to protect surface of roller chain. The membrane is also high lubricity and heat resistant, so it's suitable for any environment.
The Temperature Resistant Range: -30°C ~ 300°C or -22°F ~ 572°F.
It has great adhesion that makes membrane water, heat, and acid resistant.
With 220ml easy carry pack, you can carry it to long distance bicycle ride.
Applications
Vehicle Maintenance: Suitable for bicycle chain and freewheels.
Household Use: Furniture that you do not want any dust sticks on, for example, any furniture with tracks, door and window axels.
How to use
Clean up the surface before lubricate.
Shake the can to get a good mix before use.
Let up the smart nozzle tube to insert into orifice or internal parts and let down the tube for larger area spray.
Spin the chain to ensure the spray is evenly covered on every parts of chain.
Use a dry fabric to wipe out excess spray.
It would takes about 20 minutes to the layer dry and achieve its best effect.
Reverse the can and spray for couple second after use. This to avoid sprinkle-nozzle from clog up.
Main Ingredient
PTFE, Silicon, Solvent, Propellant.
Specification
Volume: 220ml
Package: 12 pcs/ctn
Product Size: 5.2 cm x 5.2 cm x 17.6 cm
Press Release
Puff Dino Blacking Spray

Fine quality of flat black color that is quick dry and has anti-rusting effect.

Read More

Lemon Sticker Remover Spray

Effectively remove many different type adhesive, and even aged adhesive residue.

Read More

Water-based Spray Paint

Lead-free, water-based environmental spray paint that comply with RoHS standard.

Read More