PUFF DINO 193 Dry Lubricant
Motorcycle Chain Lube, Dust Free Lube, Cut-off knife Lube, Lubricant for Cleanroom Applications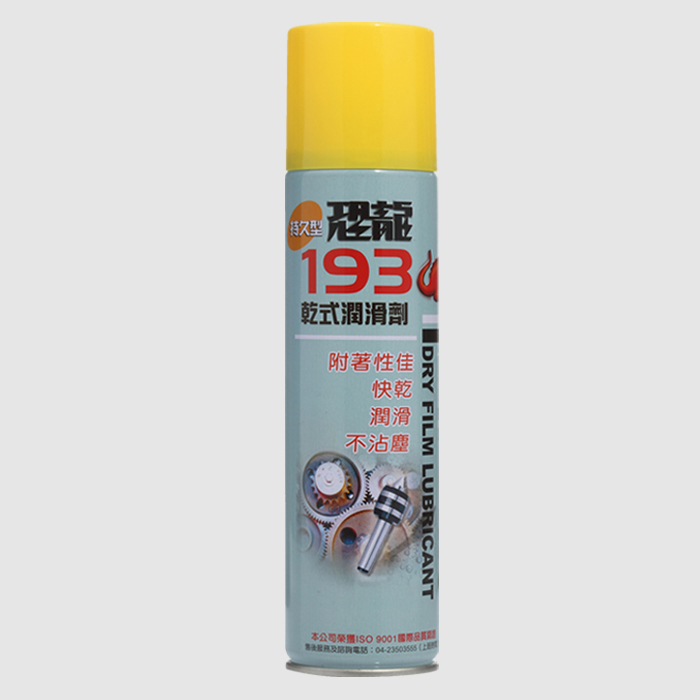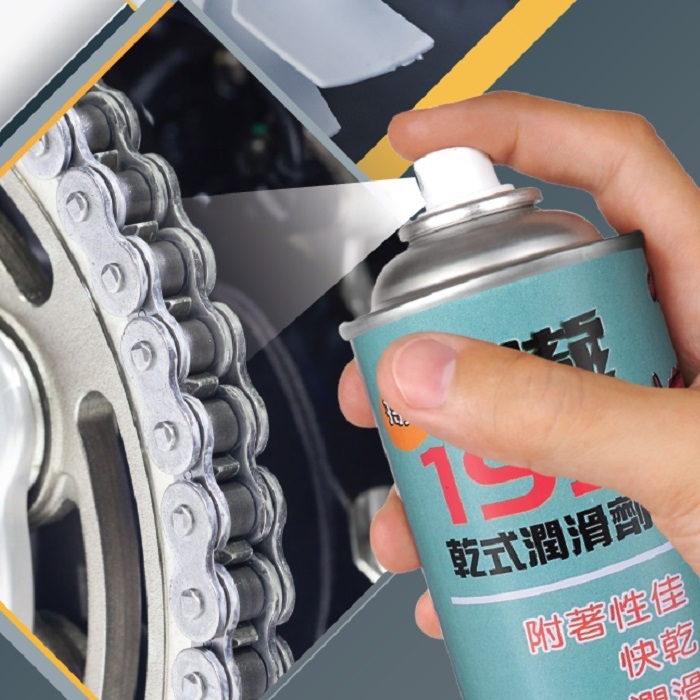 PUFF DINO 193 dry lubricant contains PTFE formula which provides a penetration effect and the formation of thin dry translucent white film. The film has long term lubrication effect but not greasy, will not build up dust. Puff Dino 193 has a wide range of temperature resistance, water repellent, and chemical resistance effect. It also works as an excellent mold release agent, very suitable for use in the plastics processing industry.
Special Features
The cover film is smooth, free of dust with good adhesion and heat resistance to provide long-term lubrication effect.
Temperature resistance range between -30°C to 300°C (-22℉ to 572℉).
Great adhesion, waterproof, acid and alkali resistant.
It also works as an excellent release agent.
Applications
Very good for motorcycle chains.
For cleanroom applications.
Lubricate all type of cut-off knives of printing plant and carpenter shop.
For industrial applications that require long term dry lubrication: metal processing, manufacturing, food processing, automatic industry, sea transportation, bearing, chain, gear, valve, hydraulic, vacuum, motor, throttle, drill, sliding device, hinge.
Use on high end furniture:Window rail and roller, sliding door track, push-out window, drawer track and any other indoor furniture with rail track.
Good for lubricating machinery in dusty environment:mining equipment, cutting and griding factory.
It also works as an excellent release agent that is good for plastics processing industry in plastic molding.
Suitable Materials
Metal, Plastic, Rubber, Wood, Leather...etc.
How to use
Clean up the surface before lubricating.
Shake the can before use to make the contents mix more evenly.
Point the smart nozzle to area that needs lubricate, and then push down the nozzle.
After use, spray the can upside down for a few seconds to avoid the nozzle from clogging up.
Specification
Volume : 420 ml
Package : 12 pcs/ctn
Product Size : 6 cm x 6 cm x 24.4 cm
Ingredient : PTFE, Solvent, Propellant
SDS AND REPORTS

---
Press Release
Puff Dino Blacking Spray

Fine quality of flat black color that is quick dry and has anti-rusting effect.

Read More

Lemon Sticker Remover Spray

Effectively remove many different type adhesive, and even aged adhesive residue.

Read More

Water-based Spray Paint

Lead-free, water-based environmental spray paint that comply with RoHS standard.

Read More