PUFF DINO 192 Spray Grease
Super Grease, Yellow Grease, Semi-solid Grease, Grease Spray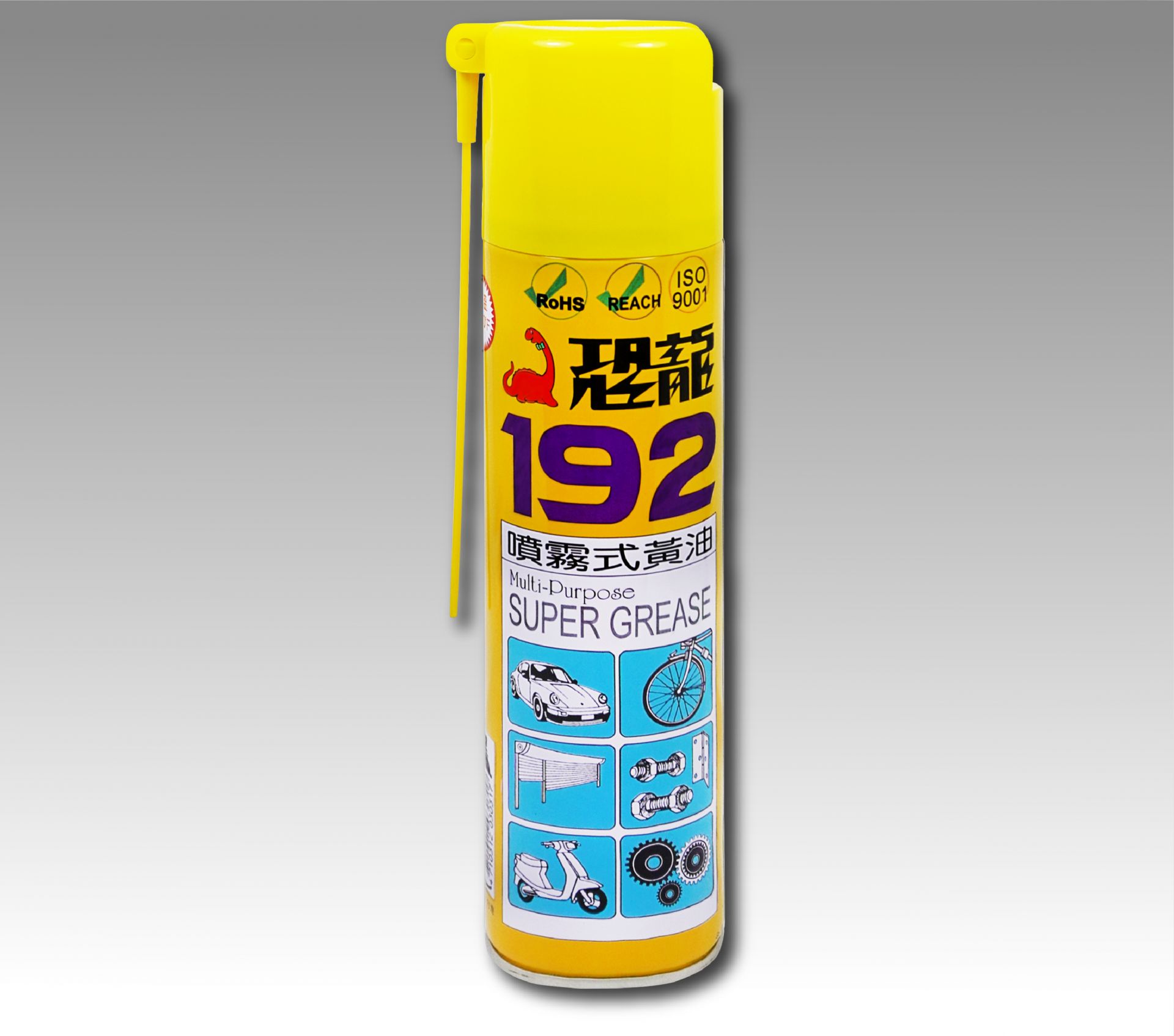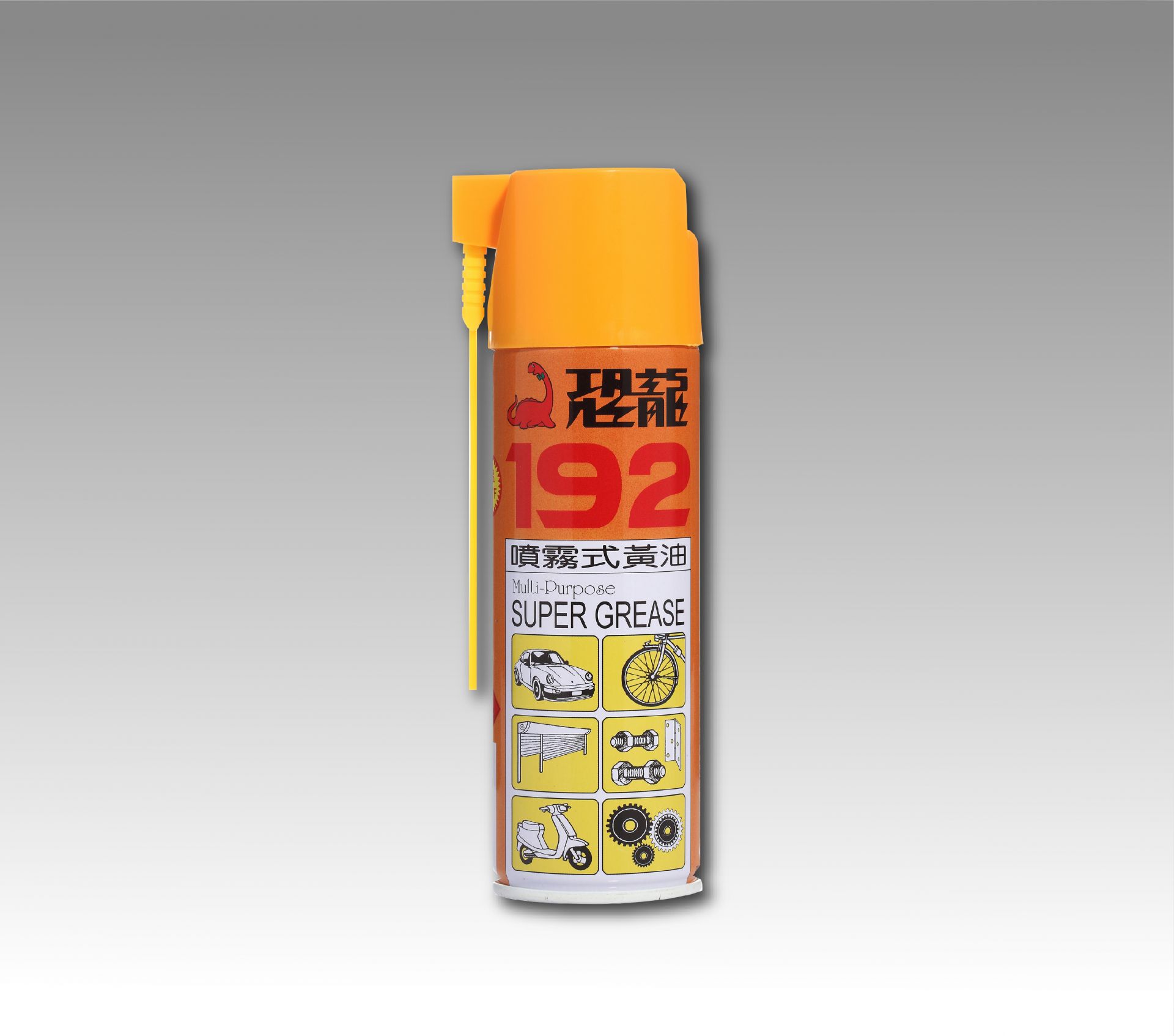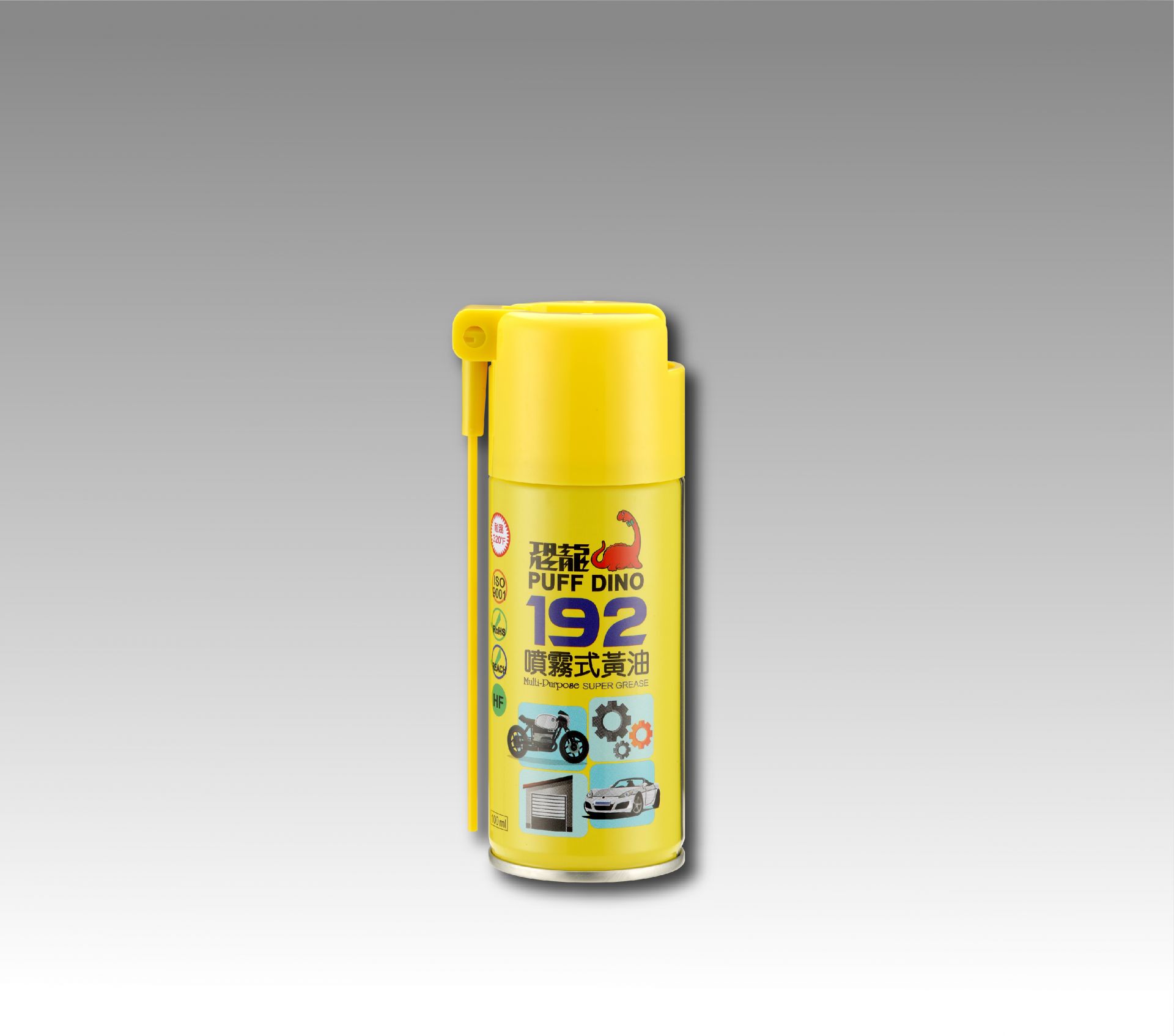 PUFF DINO 192 Spray Grease is a designated product by many industries and organizations, like TAIWAN HIGH SPEED RAIL, TAIWAN RAIWAYS, TAIWAN METRO, Bus, Plumbing & Electrical Service, Semi-conductors Industry, Precision Industry, Auto Industry and Police & Military Units.
PUFF DINO 192 not only has all the features that ordinary high temperature grease has had, but also with our smart nozzle you can now much easily spray on internal parts of machine or small area without grease allover your hand.
This provides lubrication, anti-rust and water repel on any metal moving component of machinery, such as motor vehicles, roll-up door, precision instruments or any household items with metal parts.
SPECIAL FEATURES
● The design of smart nozzle can transform large area spraying to more accurate small spray tube. This will make sure you only spray in the parts you want and won't contaminate other area.
● With the small spray tube, you could control how much amount you want to spray without wasting due to large nozzle size.
● When the grease is sprayed out, it will foam up then quickly transform to grease protecting layer on the item surface.
FOUR EXCELLENT FUNCTIONS:
● Lubrication: PUFF DINO 192 contents quality high temperature grease and is added lithium base grease as thickening agent. It's not only increasing machine stability when it applies but also ensuring mechanical parts smooth running.
● Anti-rust: PUFF DINO 192 content wool wax, an effective anti-rust material with great adhesion to attached on any type of surface. It will form a layer to isolate water and air contact and ensure maximum anti-rust effect.
● Moisture Proof: The water impermeability of wool wax can even attach to wet steel surface and provide moisture proof though long period of time without corroding of steel.
● High Temperature Resistance: PUFF DINO 192 has a wide range of use in different temperature environments. Its melting point at 345°F (174℃) and the maximum heat resistant temperature is 309°F (154℃).
Applications
Professional Machinery: Agricultural Machinery, Material Handling Equipment, Civil Engineering Machinery, Metal Processing Machines and Any Other Professional Machinery Maintain or Lubrication.
Vehicle Maintenance: Car Door Shaft, Motor Vehicle Chains and Gears, Automotive Transmission.
Ordinary Household Use: Roll-Up Door, Furniture Rail, Door Bolt Or Shaft, Pulley Wheel, Winch and Lawnmower Lubrication.
How to use
Flip the smart nozzle tube up, it can spray deeply inside machine gap and hole or use on small area spraying. For example, screw joints, internal parts of machinery, motorcycle brake line tube and other small components.
By flip up the tube, it can transform into big spray nozzle for large area spraying.
Main Ingredient
Quality High Temperature Grease, Ant-Rust Oil, Solvent, Propellant.
(No Silicon, No PTFE)
Specification
Volume: 420ml, 220ml, 100ml
Package: (1) 420ml: 24 pcs/ctn, (2) 220ml: 12 pcs/ctn, (3) 100ml:120pcs/ctn
Product Size: (1) 420ml: 6.0 cm x 6.0 cm x 24.1 cm, (2) 220ml: 5.2 cm x 5.2 cm x 17.6 cm, (3) 100ml;4.5 cm x 4.5 cm x 12.8 cm
Q&A
Q: Is there any foaming phenomenon? Is it normal?
A: Normal phenomenon! That is the foaming of LPG and semi-oil. Because the grease is thicker and LPG will volatilize, it will not affect the lubrication effect.
Tag
Super Grease
Yellow Grease
Semi-solid Grease
Grease Spray
YOU MAY ALSO LIKE

---

PUFF DINO 191 is suitable for using on any machine tools, spare parts, and maintenance of equipment. It can also clean dirty grease and prevent moisture that providing lubrication and anti-rust effect.

---

---

Puff Dino AUTO-192 White Lithium Grease Spray has crystal white clear grease. It provides outstanding long-term lubrication for automobile and machinery parts. Not only that, AUTO-192 also has anti-rust, water repels and temperature resistance effect into the spray grease. Spray on parts that need lubricate and it will form a layer that won't detach, melting or hardening on surface.

---

---

SDS AND REPORTS

---
Press Release
Puff Dino Blacking Spray

Fine quality of flat black color that is quick dry and has anti-rusting effect.

Read More

Lemon Sticker Remover Spray

Effectively remove many different type adhesive, and even aged adhesive residue.

Read More

Water-based Spray Paint

Lead-free, water-based environmental spray paint that comply with RoHS standard.

Read More