PUFF DINO 191 Anti-Rust & Lubricant
191 Anti-Rust & Lubricant Oil, 191 Anti-Rust oil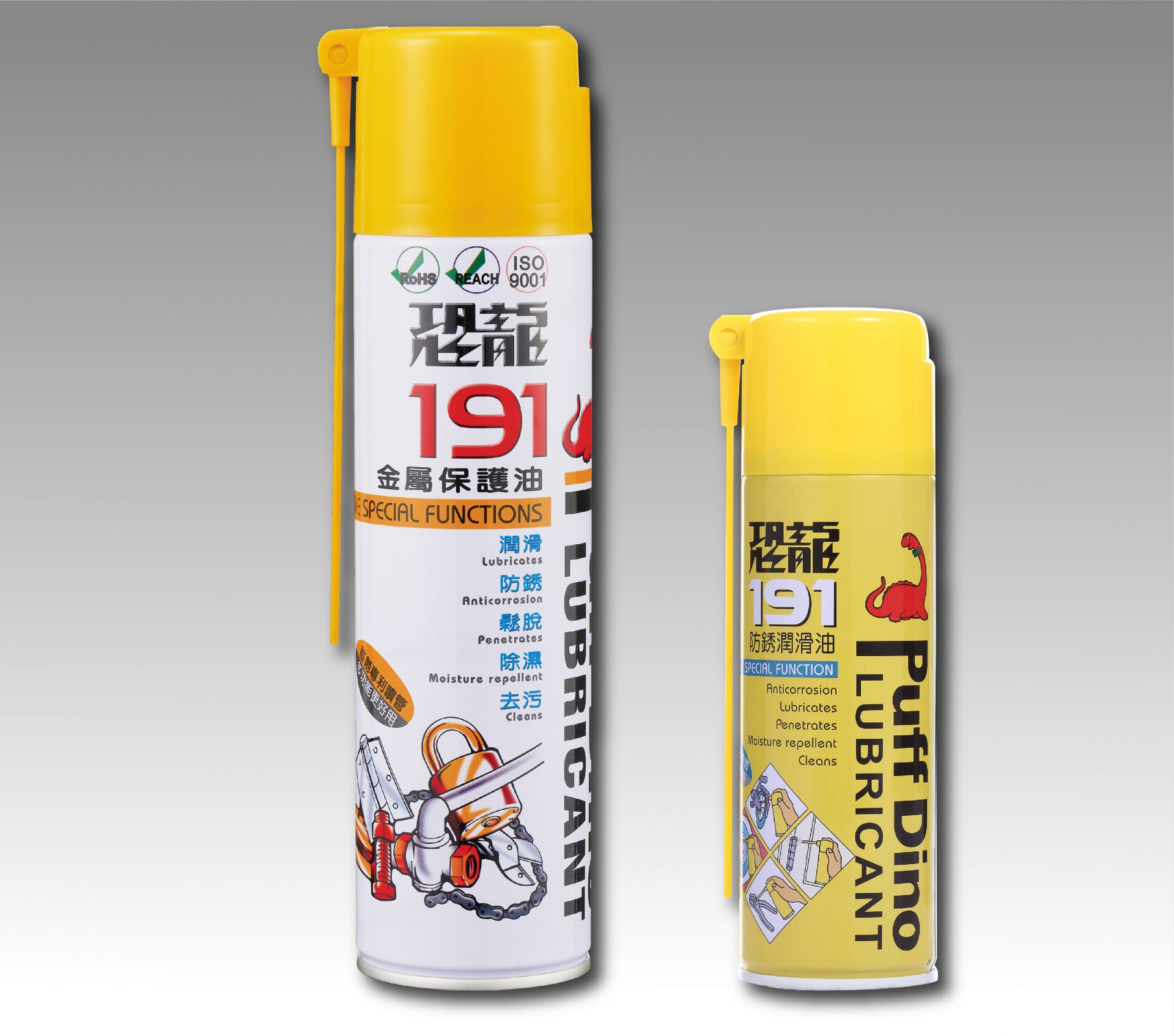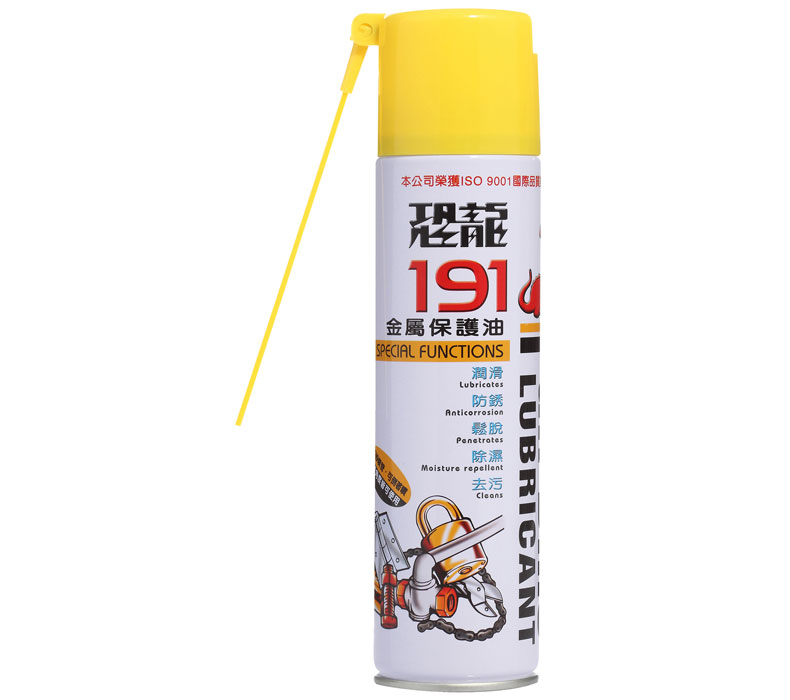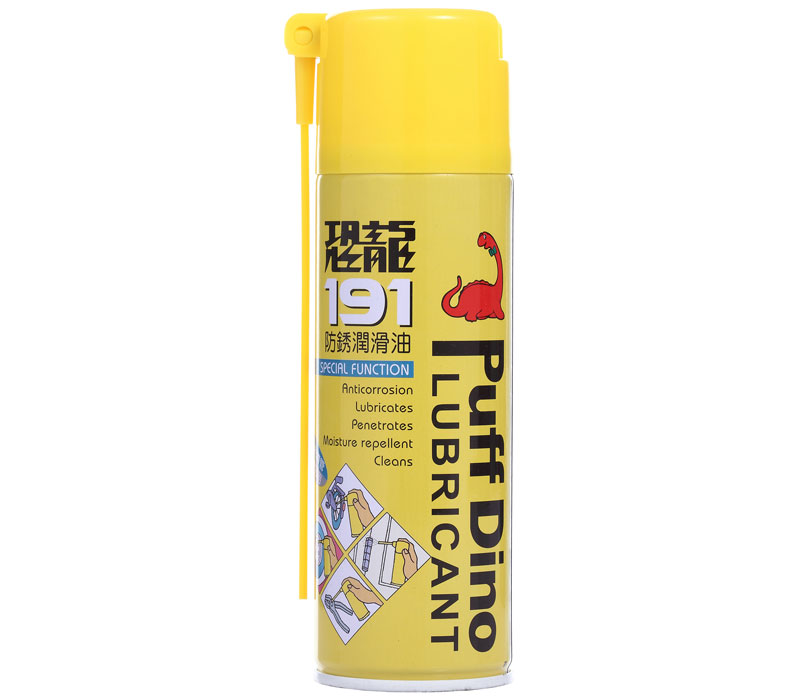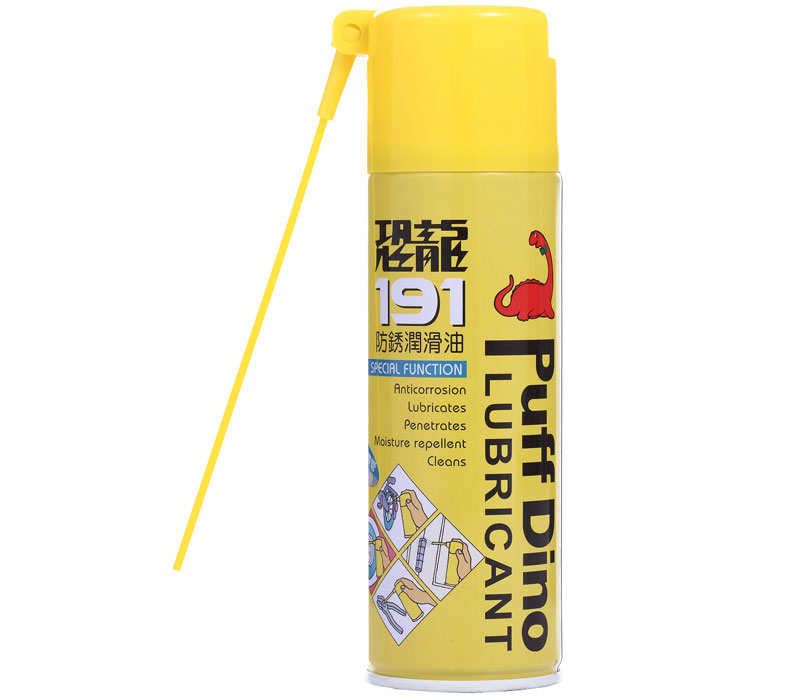 PUFF DINO 191 is suitable for using on any machine tools, spare parts, and equipment's maintenance.
Also, PUFF DINO 191 can clean dirty grease, isolating moisture while providing lubrication and anti-rust effect.
FIVE EXCELLENT FUNCTIONS
Penetration: Penetrating into rusty screws and making you unscrew more easily.
Lubrication: Providing lubrication for tools and machine parts without friction noise while it is functioning.
Anti-Rust: Forming a thin layer on the surface and protecting parts from rust.
(Under normal circumstance, the anti-rusting effect would stay around 3 months. On humid environment, the moisture will reduce duration of anti-rusting effect. In the situation like this, just re-spray another layer on and it will extend the anti-rusting effect again.)
Moisture Repellent: Drive out the existing moisture and isolated from air contact; extend the usage of the item.
Surface Cleans: Clean dirty grease, asphalt, and mud without damaging the metal surface.
Special Features
The design of smart nozzle can transform large area spraying to more accurate small spray tube. This will make sure you only spraying in the parts you want and won't contaminate other area.
With the small spray tube, you could control how much amount you want to spray without wasting due to large nozzle size. (Due to the high pressure cause by CO2 propellant, with out the smart nozzle people usually spray way to many than what they need and costing unnecessary waste and potential contaminated other items)
By using precise mixing formula, it will form a thin layer of lubrication without heavy grease left on the object.
Applications
Suitable Surfaces / Materials: It can apply on just about every metal materials.
How to use
Flip the smart nozzle tube up, it can spray deeply inside machine gap and hole or use on small area spraying. For example, screw joints, internal parts of machinery, motorcycle brake line tube and other small components.
By flip down the tube, it can transform into big spray nozzle for large area spraying.
When should I use?
Ordinary Household Use:
Friction noise on window shaft, fan and office chair
Stuck of locks, luggage wheels and keyboard tray track
Operate unsmooth on bicycle chain, lawnmower and fishing reels
Unscrew the rusty screw, prevent rusting from tools during raining season, remove dirty adhesive residue form scissors, remove sticky asphalt from car, sport equipment maintenance, sewing machine maintenance.
Professional Use:
Vehicle Maintenance: Tire Exchange Or Unscrew Car Parts, Automobile Parts Anti-Rust Protect and Clean, Lubrication On Car Door and Rear-View Mirror Shaft, Motorcycle Brake Line Replacement, Chain & Gearwheel Maintenance, Auto Tools Maintenance, Bicycle Freewheel Cleaning and Lubrication.
Office Equipment: Printers and computers maintenance.
Gun Care: Suitable for any type of guns maintenance, BB gun or firearm.
Specialized Machinery: Cleaning, lubrication and anti-rust protect on agricultural machinery and mowing machine.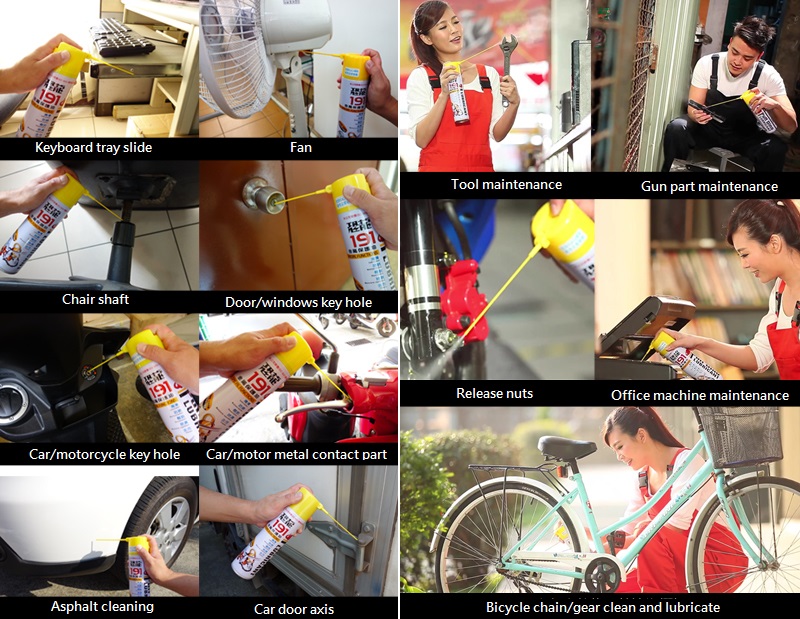 Main Ingredient
High Temperature Quality Grease, Ant-Rust Oil, Solvent, Propellant.
Specification
Volume: 420ml (DI10), 220ml (DI20)
Package: (1) 420ml: 24 pcs/ctn, (2) 220ml: 12 pcs/ctn
Product Size: (1) 420ml: 6.0 cm x 6.0 cm x 24.1 cm, (2) 220ml: 5.2 cm x 5.2 cm x 17.6 cm
191 Anti-Rust & Lubricant Spray full intro video:
SDS AND REPORTS

---
Press Release
Puff Dino Blacking Spray

Fine quality of flat black color that is quick dry and has anti-rusting effect.

Read More

Lemon Sticker Remover Spray

Effectively remove many different type adhesive, and even aged adhesive residue.

Read More

Water-based Spray Paint

Lead-free, water-based environmental spray paint that comply with RoHS standard.

Read More