Fine Flexible Putty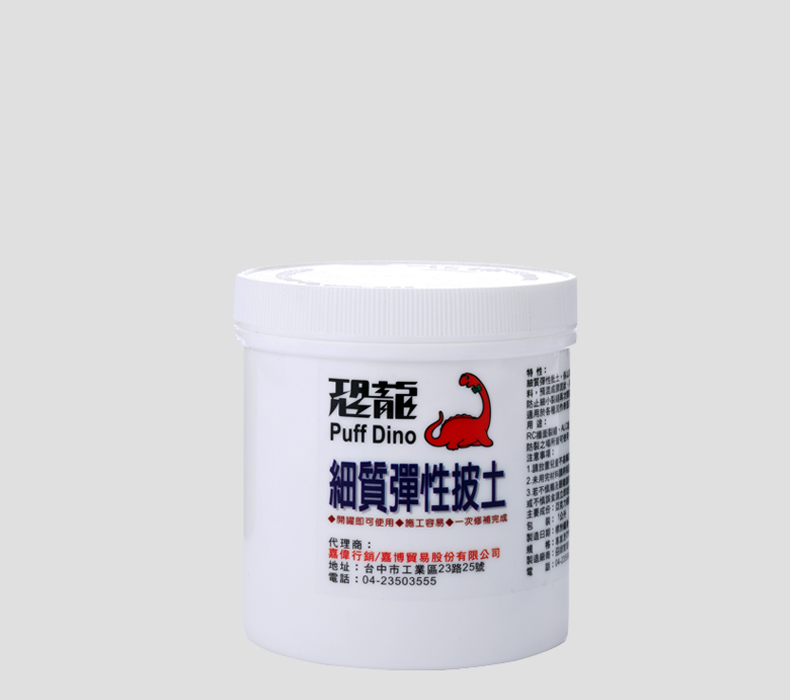 Puff Dino Fine-Flexible Putty can absorb thermal expansion and contraction inside the crack to prevent small gap split again. It can help increase the flatness of painting. Suitable for use in different concrete wall or junction of different material to prevent cracking.
Applications
Any place needs to prevent surface cracking, like RC (reinforce concrete construction) wall, ALC (autoclaved lightweight concrete), calcium silicate board, drywall...etc.
Caution:
Please store in dry, cool and not easy to reach place from children.
If not finishing use, screw the cap tightly.
If accidentally touched eyeballs, wash with great amount of clean water. If still feeling unwell or accidentally digest it, go to your local hospital seek to medical help immediately.
Main Ingredient
Acrylic Resin, Thickener, Filler.
Specification
Volume: 1 Liter, 1 Gallon
Package: 12 pcs/ctn (1 Liter), 24 pcs/ctn (1 Gallon)
Product Size: 1 Liter: 11.7 cm x 11.7 cm x 12.8 cm / 1 Gallon: 18.2 cm x 18.2 cm x 19.8 cm
Press Release
Puff Dino Blacking Spray

Fine quality of flat black color that is quick dry and has anti-rusting effect.

Read More

Lemon Sticker Remover Spray

Effectively remove many different type adhesive, and even aged adhesive residue.

Read More

Water-based Spray Paint

Lead-free, water-based environmental spray paint that comply with RoHS standard.

Read More