Anti-Efflorescence Coating Spray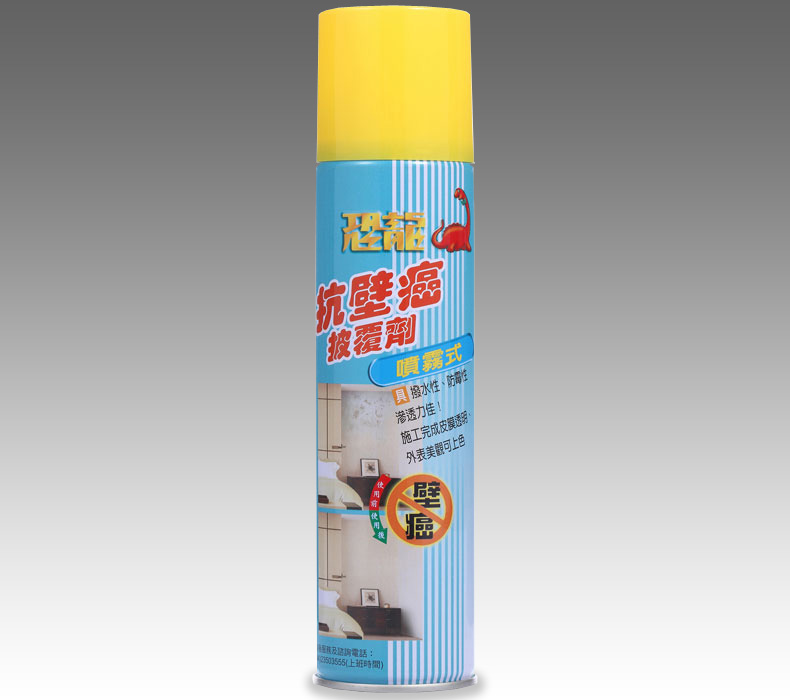 Puff Dino Anti-Efflorescence Coating Spray use special polymer resin and mildew-proof antibacterial agent formula that can penetrating into concrete crack to forma a clear protection layer. The layer is water repel, so it will stop moisture through well and causing mildew.
After the layer hardened, not only it is water proof but also resistant to heat and corrosion. This product is comply with RoHS test standard, not content harmful materials.
Special Features
The spray can penetrating into the wall to seal all the pore and crack. The dry harden layer is nontoxic, resist to acid and alkali, water and moisture repel, mildew-proof.
When the spray dry, it will performing as clear or translucent layer. (it will vary by humidity of environment when process)
Low cost, short dry time, water repel, good electrical insulation.
All you need to do is spray on to the surface. It is that simple and easy.
Excellent penetration to concrete exterior wall. It also has great adhesion that can be using different ways to process for best protection effect.
After layer dry, you can coat it with paint.
Suitable Materials
The spray has great coatability and adhesion to material surface like concrete, plastic, wood, metal and ceramics.
How to use
Treatment Before Process:
1. Normal status of wall: use clean agent or alcohol to remove all the dirt and grease off wall.
2. Wall with slight peeling paint: Scraping all the peeling paint off then clean all the dirt and grease with clean agent, alcohol or hypochlorous acid solvent. Wait for the wall dry before process.
First Process: Keep the nozzle 20 ~ 25cm above the object when spraying. The standard procedure is firstly spraying horizontal then vertical. Wait for 5~10 minutes to spray another layer on. The surface will be touch dry after 25 ~ 30 minutes.
Wait for 12 hours than repeat the first process again.
When spray on not paint coated or peeling paint concrete wall, it will appear deep moisture-like color with slightly dripping. The color will be lighter when spray is fully adsorb on wall and won't affecting adhesion or flatness to future process.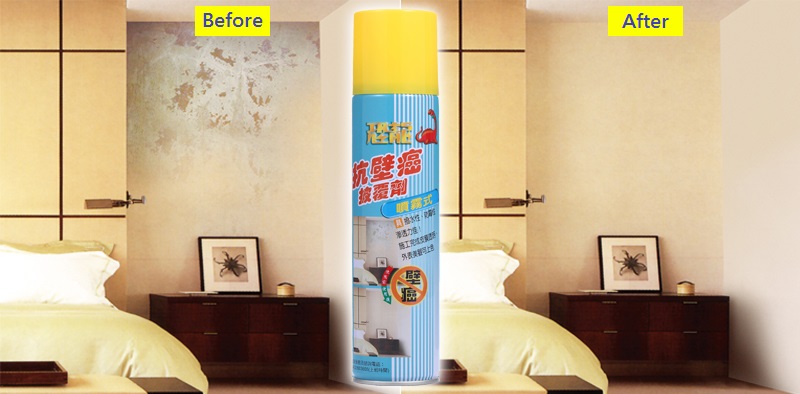 Main Ingredient
Mildew-proof Antibacterial Agents, Silicone Resin, Organic solvent, Propellant.
Specification
Volume: 420 ml
Packaging: 12 pcs /ctn
Product Size: 6.0 cm x 6.0 cm x 24.5 cm
SDS AND REPORTS

---
Press Release
Puff Dino Blacking Spray

Fine quality of flat black color that is quick dry and has anti-rusting effect.

Read More

Lemon Sticker Remover Spray

Effectively remove many different type adhesive, and even aged adhesive residue.

Read More

Water-based Spray Paint

Lead-free, water-based environmental spray paint that comply with RoHS standard.

Read More